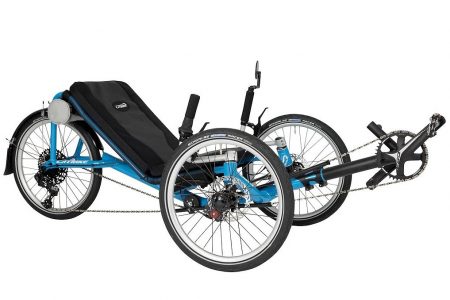 In 2019 Catrike introduced their most economical recumbent trike, the Eola. In 2021 they discontinued it.
Much like their earlier Trail design the Eola is a tadpole trike with a simplified version of Catrike's space frame and 20-inch wheels all around. This helps them keep the price and weight down. The frame is very light and rigid but lacks the lumbar curve and seat recline adjustment, comfort features found on many of their other models.
The Eola has a 9.5" seat height and 41 degree recline. From a performance perspective that's good because a lower seat with more recline lowers your center of gravity and is more aerodynamic that sitting more upright. Many first time and casual recumbent trike riders prefer a higher seat for easy on and off and less recline so they can sit up more.
The Eola uses a SRAM 11 speed drivetrain which provides a pretty good gear range. The gears range from a very nice low of 20" to a slightly lacking 76" high. Compare this to the 17" to 94" range on their more expensive Catrike Trail and the 19" to 95" range on the less expensive Avenue Trikes. If you like coasting down slight hills 76" should be fine for you, but if you like to push on downhills to keep your pulse up this may be a bit disappointing.
Like all Catrikes, it comes with a padded mesh seat, a rear fender, clipless pedals, a computer sensor mount, locking brake levers, and a mirror and flag for safety.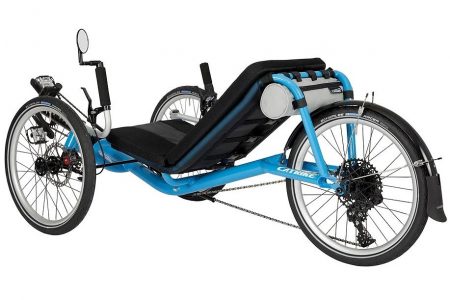 Catrike used their manufacturing knowhow to design the Eola for efficient manufacturing and assembly – proving that a US factory can compete with all the trikes welded in the Orient.
If you are looking for an economical trike that is long on performance check out the Eola. It is a pretty quick ride and I believe the lightest trike in its price range.
| | |
| --- | --- |
| Wheelbase | 39in |
| Wheel Track | 29in |
| Total Width | 32.5in |
| Total Length** | 73in |
| Seat Angle | 41 Deg |
| Weight | 33lbs |
| Seat Height | 9.5in |
| Seat Width | 14in |
| BB Height** | 14.5in |
| Ground Clearance | 4.5in |
| Total Height | 23.5in |
| Turning Circle | 16.5ft |
| Turning Radius | 8.25ft |
| Rider Weight Limit | 275lbs |
| Rider X-Seam Range | 36-46in |
*Weight includes pedals, mirror, flag, and computer mount
**Varies according to the rider's X-Seam (leg length)Standard Features
Standard Features
Rear Fender
Space frame
Flag Mount & Flag
Mirrycle Rear View Mirror
Multi Purpose Clipless Pedals
Computer Sensor Mount
No Brake Steer
Self Centering
Ackermann Steering Compensation
Structural Front Boom
Quick-Release Indexing Boom Clamp
Aluminum Rod Ends
Low Friction PTFE Flared Chain Tube
Padded Seat
12×142 thru axle
| Components | |
| --- | --- |
| Brakes | Avid BB7 Disc Brakes |
| Brake Levers | Catrike Locking Parking Brake |
| Front Derailleur | None |
| Rear Derailleur | SRAM NX 11-Speed |
| Shifter | SRAM NX 11-Speed |
| Crankset | FSA Omega 165mm |
| Bottom Bracket | FSA Mega EXO |
| Chainring | 42T |
| Cassette | SRAM 11T-42T 11 Speed |
| Gear Range | 20-76 Inches |
| Chain | FSA |
| Idler | TerraCycle 15T Sport |
| Headsets | FSA Zero Stack |
| Tires | 20″ (406) Schwalbe Marathon Racer |
* All Components are subject to change with an equivalent substitute based on availability
---