Recumbent Bike Glossary of Terms
Common misspellings: recumbant, recumbants, incumbants, incumbents.
HPV = Human Powered Vehicle
Any type of vehicle – in this case – recumbent bike, recumbent trike or tandem recumbent powered by its human rider.
---
'bent or 'bents
Short for recumbent bicycle it is a slang term referring to recumbent bikes, recumbent trikes and tandem recumbents.
---
Recumbent – Definition
Recumbent – see also: accumbent, decumbent.
adj: lying down; in a position of comfort or rest.
v: (recumb) lean in a comfortable, resting position
recumbent (bike):
reclined in a position of comfort or rest. Descriptive of a recumbent cycle position; the rider is sitting in a reclined or relaxed position with the legs extended.
accumbent:
Leaning or reclining against something, as the ancients did at their meals.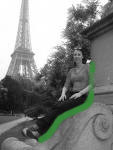 decumbent:
Curved upward from a horizontal or inclined base. Often referring to the stems of plants.

---
USS = Under Seat Steering
Advantages: USS is preferred by some riders for upper body comfort and relaxation. Riders with arm, shoulder or wrist issues often prefer USS. You don't hit your knees on USS handlebars when pedaling.
Disadvantages: Some riders find OSS less intimidating and feel OSS will be easier to get used to. Some still feel this way after they try OSS and USS bikes. USS bikes are often not quite as fast as comparable OSS bikes. The USS handlebars make the bike a bit wider in tight places like doorways. USS bikes are harder to walk around because you can't as easily push them around by the handlebars.
Some of the USS bikes we stock are: Linear ($1595-$1995), Longbikes Slipstream ($2599) and Eliminator ($2699), HP Velotechnik Street Machine ($2599+) & Challenge Seiran ($2500+)
Vision and Haluzak made USS bikes but are out of business. We still have some parts/accessories to fit them.
---
OSS = Over Seat Steering Also called ASS for above seat steering.
Advantages: Some new recumbent riders feel at home more quickly with OSS. Usually OSS bikes are slightly faster than comparable USS bikes. OSS bikes are a bit easier to walk around (through a doorway or when you have a flat tire) by pushing on the handlebars. There are many more OSS makes and models to choose from, and models as cheap as $550 are available.
Disadvantages: Some riders arms, shoulders & wrists are more comfortable on USS bikes. Because OSS handlebars are above the seat they can interfere with you seeing forward, especially when the rider is short or the seat is very reclined. The OSS handlebars have to be adjusted high enough to clear your knees when you pedal. OSS handlebars require longer cable runs which can contribute to sluggish shifting or more cable maintenance.
Some of the OSS bikes we stock are: Easy Racers, Lightning, RANS, Bacchetta, Challenge, Volae, Maxarya, Cycle Genius & Sun.
---
LWB = Long Wheelbase = 64″+, pedals are behind the front wheel and usually lower.
Advantages: most have larger wheels (20" front, 26Z" or 700c rear), stable, great for touring, some have lower seats they usually absorb road shock better.
Disadvantages: Bulky to store or transport, "U" turns can be awkward on some LWBs.
Some of the LWB bikes we stock are: Burley: Koosah & Canto, RANS: Stratus & Velocity squared, Linear LWB, Easy Racers Tour Easy, Cycle Genius LTX and the SUN: EZ-Sport and Sport LTD.
---
CLWB =Compact Long Wheelbase ~50″ to ~63″ Pedals close behind front wheel.
Advantages: less expensive, less bulky to transport, maneuverable & stable,
Disadvantages: slower, generally not as maneuverable as SWB or as stable as LWB.
Some of the CLWB bikes we stock are: Rans Tailwind, Cycle Genius CGX, Sun: EZ-1 & EZ-1 Lite.
---
SWB = Short Wheelbase ~38″ to ~45″ front wheel behind pedals.
Advantages: often lighter, nimble & maneuverable, most climb hills better, some are very fast. SWBs are smaller than other recumbents, easier to store and transport.
Disadvantages: Some riders feel less stable and secure on a SWB, especially at high speed, (some riders feel more stable on a SWB, go figure…) most SWB models are less comfortable on bumps than most LWBs.
Some of the SWB bikes we stock are: RANS: Rocket, V-Rex & Force 5 Expedition, Lightning: Phantom and P-38, Bacchetta: Giro, Strada, Corsa and Ti Aero, Longbikes Eliminator, Volae Century, Club, Expedition, Sport & Tour, HP Velotechnik: Street Machine and Challenge: Seiran OS & USS.
---
Low Racer a.k.a. LoRacer
Advantages: Among the fastest recumbents available, probably the fastest for track events like the 200 meter sprints.
Disadvantages: Extreme recline (that's what makes them aerodynamic and fast) makes them harder to get used to. To low to be seen in traffic, generally not practical for transportation. They are awkward to start and stop. I think they are dangerous in urban traffic!
We no longer stock Low Racers. Customers who have come here to try a Low Racer never buy them after test riding them so we end up sending them to customers who have never ridden them. We don't think it is wise to buy an extreme bike with out test rides.
---
High Racer a.k.a. HiRacer
Advantages: Among the fastest recumbents available, possibly the fastest for road events like century rides. Higher position makes it easier to see and be seen in traffic & easier to talk to riders on other bikes. A wide variety of aerodynamic 650c racing wheels are available.
Disadvantages: Extreme recline (that's what makes them aerodynamic and fast) makes them harder to get used to. Seat is too high for some riders. They can be awkward to start and stop.
Some of the High Racer bikes we stock are: Bacchetta Giro 26, Strada, Corsa and Ti Aero, RANS Force 5 Enduro and Volae Club, Expedition & Sport.
(The Reynolds Weld Labs T-Bone is somewhere between a low racer and a high racer. The T-bone is my favorite go-fast bike though not as comfy as others.)
---
IPS = means "independent pedal system."
Many couples find IPS to be a great feature on a tandem because it allows each rider to coast when they want to, whether their partner is pedaling or not.
---
"I've become convinced that the recumbent is the bike of the future. It is comfortable to ride for long periods, and it wont produce numb hands or crotch"
---