Cycle Genius ceased production in 2012. The Cycle Genius CGX was discontinued in 2007. We do not have any of the CGX left in stock.
If their comfortable, relaxing, LWB OSS bikes interested you then you should check out the
RANS Stratus
recumbent bike.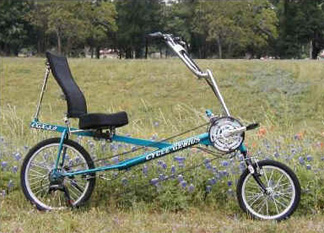 The CGX was one of the least expensive recumbents on the market until it was discontinued in 2007. They may be re-introduced one day until then the info on this page is history.
Cycle Genius CGX Recumbent Bicycles
Like the sun EZ-1, the closest thing to a recumbent bike in its price range, it is a CLWB with a 20" rear and 16" front wheel.
Both the CGX and EZ-1 have mesh back seats with a large contoured and adjustable base. I find them similarly comfortable other riders may disagree. Both have Linear Pull ("V-Brake") that work well.
Both the CGX and EZ-1 have High Tension Steel Frames & Forks. The CGX frame geometry is similar to their Higher End CGX.
CGX Components include Alloy Front & Rear quick release wheels. A nice touch is the 28 spoke front wheel, all you will need in a CLWB or LWB bike.
The Sram 3.0 – 24 Speed Twist Grip Shift and Sram Wide Range derailleurs work well.
Size:
One size fits most Riders 5' to 6'2″. Shorter riders may find the handlebars are too close to their chest, taller riders may find they have to reach a bit. I think shorter riders may find the EZ-1 a slightly better fit.
If you liked the CGX and you're looking for a comfortable & affordable alternative – check out the
Sun EZ-1.
---
---