The Bicycle Man is a full service bicycle and recumbent bike shop in Alfred Station, New York. We are "centrally isolated" in Western NY, a great place to ride! We have been serving our customers, under the same management since 1966; riding, selling and stocking recumbents since 1995.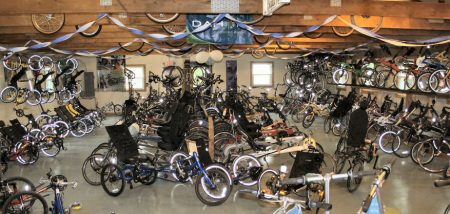 Our desire is to provide service that will bring you back, with a smile! We aren't perfect, but apparently we are doing something right. We are cyclists ourselves. We have logged tens of thousands of miles racing, touring, trail riding, commuting, and day tripping on road bikes, mountain bikes, and recumbent bikes and trikes.
Lee, our shop manager has toured on traditional bikes and recumbents and worked in bicycle shops for approaching 40 years.
Peter, the owner/designer/salesman has been in the bike business since 1966. He was car free till 1985, riding everywhere in all weather. He successfully raced traditional bikes locally from 1972 to 1985 and won the 2001 HPRA North American Recumbent championship racing SuperStock.
When you ask about a product, chances are we have used it ourselves. We have 60 to 100 recumbents in stock year-round, ready for you to test ride (weather permitting.)
We carry new and used recumbent bikes and trikes from Avenue Trikes, Azub, Bacchetta, Catrike, Greenspeed, Hase, HP Velotechnik, Ice/Trice, Lightning, Linear, Longbikes, RANS, Sun and Terratrike/Wizwheels.
Come on in and test ride a bike suited to your riding lifestyle! If you are too far away to come in, and don't have a dealer in your area we can ship many brands of recumbents to you. We recommend test riding before buying if you can, to be sure you get a bike you love!
Due to the manufacturer's policy we do not ship new HP-Velo TerraTrike bikes or trikes.
---