At the Bicycle Man we were the first US dealer to carry AZUB recumbent bikes and trikes. Azub has been building recumbent bikes in the Czech Republic since 2000. As they have grown they have added more and more recumbent bike models and in 2010 they added recumbent tadpole trikes too.
If you are looking for an extra rugged, very adjustable, suspended recumbent bike or a recumbent trike that is rugged and very adjustable an Azub may be just right for you.
AZUB recumbents boast the AZUB IPS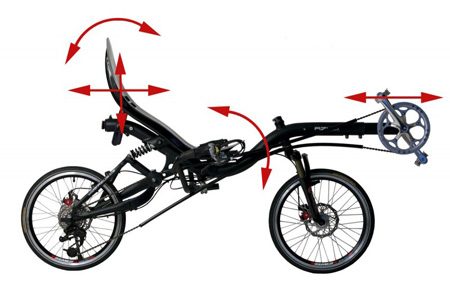 Azub is extremely proud of the articulation and adjustability of their recumbents. Azub knows that the key to the most effective and comfortable biking experience comes from an optimal set-up for your body when you are pedaling. Every cyclist is different and Azub strongly believes that the bike is to adapt to the cyclist, not the opposite.
Introducing the IPS – Ideal Position System
Whether you are a child or a basketball player Azub has developed a system to adjust the frame, seat and other parameters to fit you, the rider. They call it IPS, i.e. Ideal Position System.
The most important thing is the position of the seat that can be changed without any tools, just with two clamping devices. This adjustment enables a change in length up to 5.1 inches (13 cm) and height up to 2.36 inches (6 cm). Other parameters that can be changed are following:
seat slope (17°)
front boom (200 mm)
you can use under seat steering or above seat steering
the handlebars can be set up to get the best position
the radius of turning can be set up (when using the under seat steering)
Using all these possibilities, it's not only you who can enjoy your recumbent but even your child or friend, a basketball player, as well. To have an adjustable seat provides you with many advantages even if you don't share your bike with anyone. Beginners usually start with a steeper position and after gaining experience they allow themselves to lay down more and more. Everything can be changed without any tools just with the clamping devices anywhere on your journey.





More info coming soon on these innovative, rugged European recumbents!
---