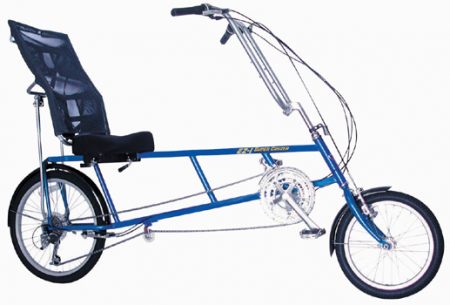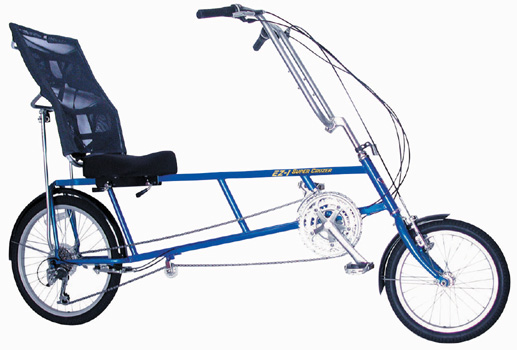 Sun EZ-1 Recumbent Bicycle
The Sun EZ-1 is a CLWB recumbent bike with a 16″ front wheel and a 20″ rear wheel. Riders looking for economical comfort bike will find it does well in both areas. It comes in red or blue. It is economical but it is heavy at 41.5 lb. If you like the comfort and handling of the EZ-1 but are put off by its weight try the EZ-Lite.
The EZ-1 comes with rugged, wider lower pressure tires which could be changed for a lighter faster pair but this will never be a fast bike. Its front shifting is inconsistent; some riders find it occasionally drops the chain when downshifting to the lowest front gear. Others have reported no such problem.
I think it would be a good idea to test ride the Cycle Genius CGX (39 lb and a little less money) before you decide on an EZ-1.
We do not ship either Sun or Cycle Genius bikes. If you can not find a dealer in your area we may be able to arrange to have one sent to a bike shop near you for final assembly. If you have a recumbent dealer offering test rides in your area we suggest you support them.
We also have Sun Recumbent Bike Accessories and Parts
Sun Bicycles Recumbent Owner's Manuals
Sun 2008 to Date Owner's Manual – For Sun Bicycles 2008 models to date
Sun 2007 & Earlier Owner's Manual – For Sun EZ Series 2007 and Older
---
Click on the links below to read more about the SUN recumbent bike and trike models.
---