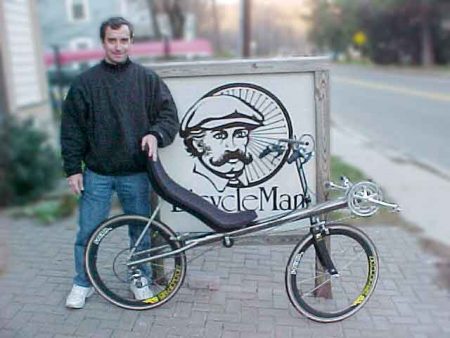 After over four years of development Rich Pinto's Aerocycle became Bacchettas 23 pound Aero Ti "high-racer"
The AERO is Bacchetta's single minded performance bike built for speed. It is not for touring, it is not really for commuting, it is designed for speed. This bike features a cleaner aerodynamic design, a titanium frame and a carbon fiber seat. They weight about 22 pounds. The larger diameter 650c aero wheels offer light weight, a selection of hi performance road tires, good road gearing and excellent low rolling resistance, even on less than perfect paved surfaces. It's 47″ wheelbase provides the AERO with good stability.
The laid back carbon seat offers good support and is light & stiff. Road vibration is damped a bit by the titanium frame, the 2″ seat foam further cut the bumps transmitted to the rider. They are fast on the flat and climb great. It is an excellent bike to get if you want to comfortably keep up with folks on traditional road bikes.
The down side of this bike is you can not put wider tires on these wheels.
The Aero TI sells for ~$3995 making is one of the least expensive recumbents at its weight. The Reynolds Wishbone TI is ~$1000 less expensive and only a pound or two heavier. The Wishbone is available in dual 650c with OSS and the more versatile 20×26 with USS or OSS.
Click here for a  Bacchetta Owners Manual (pdf 1.22mb)
---
---