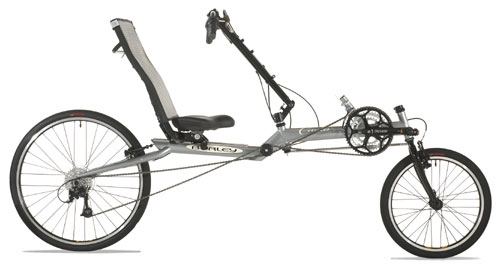 We were surprised September 8, 2006 when Burley announced it was immediately stopping recumbent production. At the time Burley was one of the largest recumbent makers in the US. They reported that their recumbent business was profitable but they were losing money overall and needed to shrink and re-focus. Michael Coughlin purchased Burley and has a good track record of saving financially troubled companies. Burley is now focusing on importing their bicycle trailers.
The rest of the information on this page is left for historical purposes.
Burley Canto & Taiko Recumbent Bicycles
In the LWB configuration, they are very stable and absorb bumps as well as any non-suspended (without suspension) bike I have ridden. They only come in one size but fit a wide range of rider sizes well. Customers test riding these bikes often are impressed with their handling, even if they end up buying something else. They are great touring bikes and pretty quick too. The Canto uses Grip Shift, Sora, and Alivio components while the Taiko has Shimano 105, Deore and LX.
I usually ride Burleys with the seat adjusted as vertical as it will go. I like it reclined, it is still fairly reclined in that position, I'll bet that is the way it's photographed on their web page. If you want to sit bolt upright you may not like their seat position. Climbing is very good, and its high-speed downhill handling is confidence inspiring. It's Handling is EASY to feel at home on, at most any speed.
The Burley seats are very adjustable (base position and angle, back angle, pedal distance). The RANS and Bacchetta seats continue to be the most popular with our customers for overall comfort, but the Burley seat combined with the frame's passive suspension (especially on their LWB designs) works well softening the smaller bumps.
We are all sold out of Burley recumbents but we do have some parts and accessories that will fit Burley recumbents.
We may have some used Burley recumbents
here
.
---
---