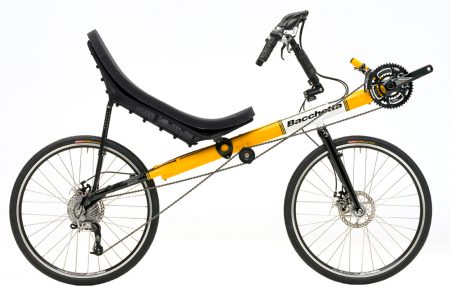 The Bacchetta Giro 26″ is the recumbent that brought me thru the Bicycleman's door for the first time. I had finished a tour around Lake Ontario on my old Rans V-Rex and ran into a little trouble. The back roads I was riding on in Canada often had 3″ of loose stone for a shoulder. If I had to get off the road in a hurry, the loose stone would stop the 20″ front wheel on my V-Rex instantly. Then I would have to get off my bike and push it back onto the road. I spent WAY too much time on the tour thinking about my little front wheel instead of looking at the sights. I knew I really liked short wheelbase recumbents, but I figured a larger front wheel would roll over the loose stuff better. I also knew that the Bacchetta Giro 26″ was designed by the same guy who designed the Rans V-Rex, Mark Colliton, so I decided to give it a try.
Turns out the addition of a 26″ front wheel makes a lot of difference. On the Rans V-Rex, the seat bottom and the crank are about the same height. On the Giro 26″, the crank is about 6″ higher than the seat. To have your body bent at the waist and hip about the same you need to recline the seat on the Bacchetta quite a bit. This was when the whole high racer/dual 26″ wheel thing was just taking off and it was my first time riding one. I have to say that my first impression wasn't very good. Which was funny because I was dead sure this was the bike for me from all my internet research. The sensation of laying on my back like a flipped turtle felt awkward and made it a challenge to get started. Once I was rolling things felt more normal and I picked up speed quickly. That's when the bike came into its own.
On a flat road the Giro 26″ really flies for a touring/commuter bike. With two big wheels spinning fast the Giro 26″ feels very stable and maintains its speed well. When I got to the hill I wasn't as happy. That 26″ front wheel makes for a high body position and the ground seems a long way down when you're going 4 miles an hour wobbling up a hill. I found that my feet felt really heavy being that high above me. That sensation goes away over time as you get used to the bike, but that's what I noticed the most first ride.
None of the things I wrote about are because it's a Bacchetta. They are because it's a high racer/dual 26″. It's just the way they tend to work. You end up flat to the wind which is great for speed and great into a headwind but more awkward stopping and starting or struggling slowly up a hill. Like almost everything, use makes master. It has been a decade since that first ride, and now I like the big wheeled recumbents. The things that bothered me then feel normal now. With that said, when someone new to recumbents comes in for a test ride, the last bikes of the day are the high racers. First we have them try long wheel base recumbents, then short wheel base 20″/26″ or a tadpole trike, then the high racers. It's best to start out sitting upright with your feet low and slowly get used to being more reclined with your feet higher.
I think the Bacchetta Giro 26″ is often a contender for someone's next recumbent. It's an inexpensive way to try out the high racer/dual 26″ thing without spending $3000 on something extreme. It's a versatile recumbent that can tour, commute or take you on a century ride.
Click here for a Bacchetta Owners Manual (pdf 1.22mb)
---
---