RANS stopped making the V-Rex in about 2010. It has been replaced with a new, higher performance 20-26"
RANS Rocket
with a mono-tube frame.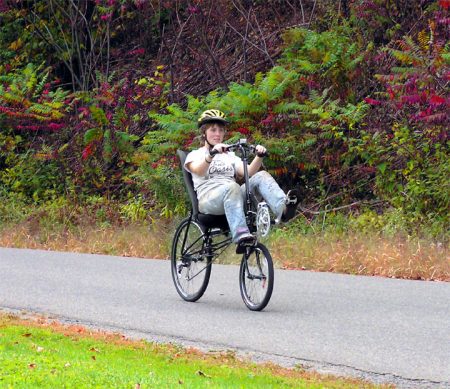 RANS V-Rex Recumbent Bicycle
The V-Rex's name means "King of speed." As the big brother of the Rocket, the V-Rex has several improvements. The larger 26″ rear wheel provides a smoother ride and allows a huge selection of tires. It's larger diameter allows the use of standard Shimano chainrings, which improve the front shifting. Custom high-speed gearing is easier with the larger wheel. To figure gearing, the stock "26 inch" Primo is ~24+1/4″.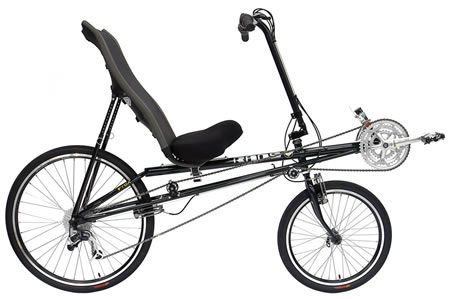 The V-Rex frame is triangulated at the bottom-bracket for greater stiffness, which improves sprinting and climbing. The components are a grade better too. Tall riders, over 6'3 or so should consider the XL frame version. The XL costs the same as the regular size though it is made in the US.
For rougher roads, we can set up a V-Rex with a front shock and 2″ wide tires (We call it the "Gilman Special" as Mike and his wife each have one of them. They love them). The feel and handling of the V-Rex are quite similar to the Rocket. I like 'em both.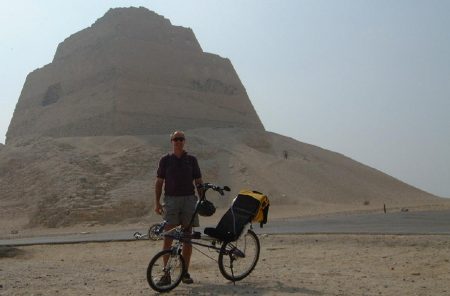 ---
---