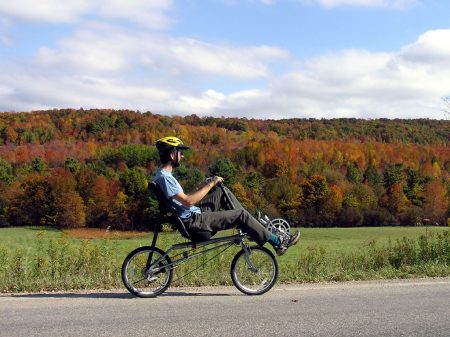 RANS stopped making the dual 20" wheel Rocket in 2008. It has been replaced with a new, higher performance 20-26" Rocket with a mono-tube frame.
RANS Rocket Recumbent Bicycle
My first recumbent was a Rocket, so I'm biased. I've ridden Rockets 3,000+ miles, most always in comfort. I never had much fun (or comfort) on the second half of a 100-mile "century" ride till I rode one on a recumbent, the Rocket. I've enjoyed four century rides on Rockets, each comfortably in fewer than 7 hours. Don't let anybody tell you it is a slow bike 'cause it isn't. It's one of the fastest in its price range (though the Lightning Thunderbolt is another great performance value, especially for a medium to large rider.) I've ridden Rockets with and without my homemade tailbox & partial faring.
I like the handling of the Rocket; it is nimble at low speed and I find it pretty stable at higher speed. Some riders feel it is unstable; you should try one and see what you think. There have been three frame designs in the Rocket. In 1995 the original square tube rocket came out. The 1.5" round tube rocket introduced about 1997 was lighter and less shaky. These older Rockets had a shorter wheelbase and were less stable than the newer, longer models which have a 2" frame tube.
For me, the biggest draw of the Rocket (aside from the price) is the comfort of the RANS seat and the way the RANS' Flip-it handlebar stem adjusts to fit most any taste. The Rocket allows a lot of rider position adjustment for comfort and performance, as does the V-Rex.
The dual 20" design of the Rocket has strengths and limitations:
Dual 20" wheel strengths:
Only one size spare tire and tube to carry on a tour
Good tire selection available
A little more room behind the seat for luggage. I had a homemade tail-box with lots of space on my Rocket.
Compact size, my fully assembled Rocket fit in our little '87 Chevy Nova hatchback (with the Chevy's back seat down.)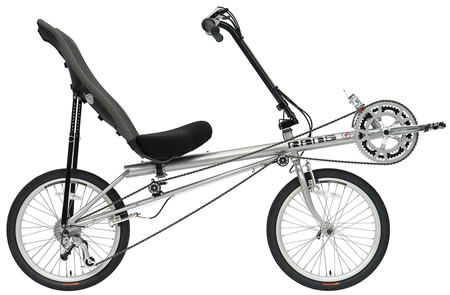 Dual 20" wheel drawbacks:
You will feel road bumps more
A large 63 tooth chain-ring gives decent road gearing but racing gears are difficult to add
Front shifting is a bit sluggish.
The Rocket is a great performance recumbent for the money if you like OSS & SWB. If you've got a couple bucks to spare test ride a V-Rex. The V-Rex has most all of the Rocket advantages with a few more of its own.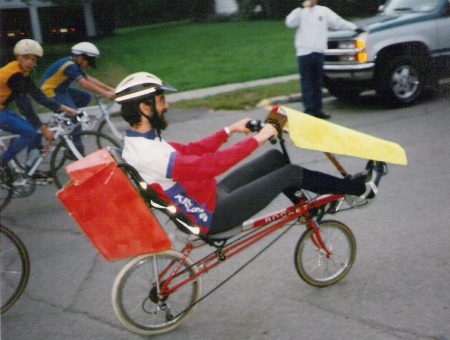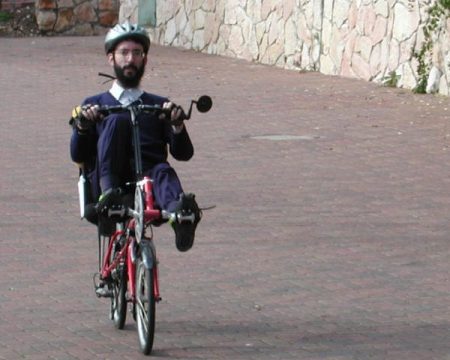 ---
---