RANS has stopped making their
WAVE
and Tailwind recumbents. If a comfy relaxing OSS LWB recumbent is what you are looking for, take a look at the
RANS Stratus
.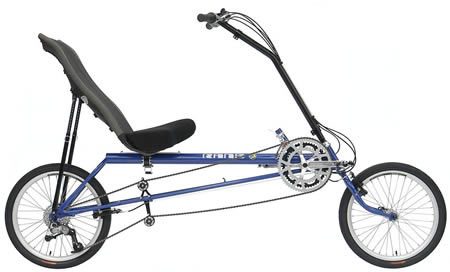 RANS Tailwind Recumbent Bicycle – The Tailwind is no longer made.
Recumbent Cyclist News rated the '98 tailwind as "the best enthusiast buy in North America." Pretty much unchanged for 2001, the $995 Tailwind remains a poor man's Stratus.
The 20″ rear wheel makes adding extra high gearing on the Tailwind (& Wave & Rocket) more difficult than on the Stratus. You can recline the seat further on the Tailwind than the Stratus. The 20″ front wheel fits a much wider variety of performance tires than the 16″ front tire on the Wave. The stock Primo Comet tires provide low rolling resistance.
The Tailwind frame flexes to absorb bumps and is stable at speed. The stem on the Tailwind (and the Wave, and to a lesser extent the Stratus) is quite flexible, sometimes unnerving to beginners. This flex is intentional to dampen bumps and keep your hands comfortable. Riders over ~6″3″ won't fit on a Tailwind (or Wave) very well. Reasonably light and reasonably priced, the RANS Tailwind is a higher performance Wave.
---
---