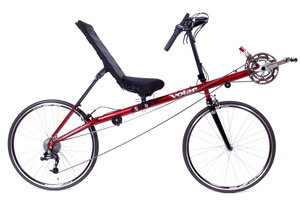 Volae recumbent bicycles are no longer sold through dealers.
If you are interested in a 26″x26″ SWB recumbent bike suitable for touring you might look at the Bacchetta Giro 26 recumbent we typically stock:
For under $1,600 the Volae Sport is a competitively priced hiracer. Equipped with a Reynolds 4130 Chromoly frame that has been mated to their new Volae Alloy fork gives an even lighter combo than the 2006 model.
Throw in the SRAM X.7-level components, Volae Mesh seat and wheels and you'll find the bike to be; light, responsive and durable.
New for 2007: Volae Mesh Seat standard, Kenda Koncept 650x23C tires, choice of Cinnamon Red, Sky Blue or Candy Red powder coat.
---
---