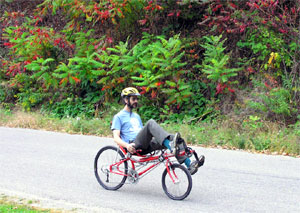 Longbikes Eliminator Recumbent Bicycle
The Longbikes Eliminator is a rugged Short Wheel Base (SWB) – Under Seat Steering (USS) recumbent. The Eliminator frame is strong and warranted for riders up to 300 lb.
Their adjustable pedal boom makes it a bit easier to adjust the tension on the front two chains. (The rear chain is tensioned by the derailleur.) When adjusting the chain tension on an Eliminator remember to adjust the middle chain first then the front chain last.
Features and Options:
Chain management:
The 3 chains on this bike keep chain noise to a minimum. The front chain tension is adjusted by moving the pedal boom slightly. The center chain is adjusted with an eccentric. The rear chain which does all the shifting is similar is tensioned by the derailleur.
The crankset has a single chain ring. Behind that, near the headset, there is a pair of adjustable idler sprockets slightly above the fork. Under the seat, there is a spider that carries four chainrings. The spider is driven by a chain from the inner of the pair of chainrings. The "front" derailleur is here under the seat. It shifts well but like on our RANS Screamer tandem I sometimes miss being able to see it shift as on most SWB recumbents. It is a complicated drive train but it works well.
Comfort:
Longbikes standard "Hip Hinge" seat provides for independent adjustment of seat tilt and back recline. The incremental adjustment positions allow a seat to back angle of 95-115 degrees in 5-degree increments to fine tune the back position as well. A pair of adjustable struts provides support between the frame and the seat assembly.
Eliminator Specifications:
Frame: 4130 Tube, 1.75″ Diameter Main Frame, replaceable rear drop-outs.
Wheel Base 46″
X-Seam Range 41-49″
Seat Height 24″
Bottom Bracket Height 25″
Fork 1″ Threaded, Chromoly steel
Head Set 1″ Alloy, threaded
Seat two piece Hip-Hinged, Aluminum tube frame, full mesh.
Steering Indirect under seat steering
Handle Bar 7/8″ 6061-T6 Aluminum Tube
Bar Ends 2 axis adjustable
Front Wheel 20" (406)
Rear Wheel 26" (559)
Front Hub Shimano Velocity
Rear Hub Shimano Velocity
Front Brake Avid BB7 Mechanical Disc
Rear Brake Avid BB7 Mechanical Disc
Brake Levers Avid Speed Dial 7
Shifters Shimano Micro Shift
Front Derailleur Shimano LX
Rear Derailleur Shimano LX
Alloy 170mm w/single 32T Chain Ring
Pedals SPD Compatible
Longbikes hub with two 22-tooth micro-drive 4-bolt chain rings
22/32/44 4-bolt on Longbikes spider
Chain SRAM
Cassette 11-32
Front Tire Kenda Kwest 100 psi 1.5" 20″ (406)
Rear Tire Kenda Kwest 100 psi 1.5" 26″ (559)
Paint Bright Chrome Yellow with clear coat & top mount decals
Another SWB – USS Option:
If you are looking for a lighter, foldable SWB with USS warranted up to 275 lb take a look at the new foldable Linear Roadster.
---
---