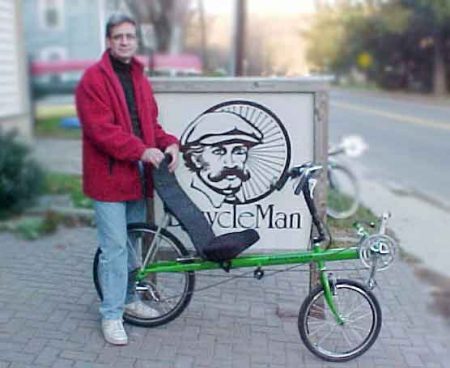 Bacchetta Giro Recumbent Bicycles
The Giro is Bacchetta's rendition of the popular 20×26 OSS SWB. It is not a groundbreaking design but rather a refinement with some improved features and details. This bike is as easy to adjust between riders as any recumbent in this category. It's three frame sizes fit riders 5'2″-6'6″++. Shorter riders may find it hard to reach the ground. The slope of the frame tube means sliding the seat forward for a shorter rider also raises it, an unfortunate situation. The Burley Django or Lightning Phantom (size small) will fit most riders under about 5'4″ better.
The Giro's 48″ wheelbase & steering geometry combine to give it stable handling and great road manners. It may be the most stable 20×26 I have ridden. The wheels have Shimano 105 hubs, Alex DA16 rims & stainless steel straight gage spokes. They come mounted with the new Kenda Kwest (100 psi, 1.5″) tires. Many other 20″ 406 front 26″ 559 rear tires are commonly available. Any decent recumbent bike shop should stock several tire choices even some Kevlar belted ones.
The Giro is easier than the Strada for novices to get used to. The 20″ front wheel design allows a slightly lower seat height (23-24″) and significantly lower bottom bracket (26-27″). It is still a pretty aero bike, and fast for this type.
To make it a more versatile commuter and sport-touring bike the GIRO has plenty of room for fat tires and fenders. It can be fitted with Bacchetta's own under seat rack that will mount to the seat. The Rans seat bags fit pretty well (I like the RANS aero-back in yellow for safety.)
Like most recumbents the GIRO has a triple crank and wide range cassette giving gears to climb most any paved hill. It has a Chromoly fork and a SRAM chain. Its price makes it quite a good value for a 20″x26″ SWB.
Click here for a Bacchetta Owners Manual (pdf 1.22mb)
---
---