Lightning Phantom Recumbent Bicycle
The Phantom is a real performance bike at a pretty affordable price. It combines the overall geometry and seat of the P-38 with Chromoly mono-tube construction. The Phantom's TIG welds are unusual on a steel bike but on thin wall tubing, they offer lower metal fatigue, a slight advantage. It is a fast bike that's versatile, lightweight, comfortable and still affordable.
The head tube angle on the Phantom is a degree or two more laid back than the P-38, so the Phantom is more stable on fast descents though not quite as nimble. The Phantom climbs a bit better than most SWBs in its price range. I slightly prefer the RANS seat for comfort and because it makes it easier to reach the ground than the Lightning (or Haluzak) seat. The lacing on the Phantom seat needs to be re-tightened once or twice after the first 25 to 50 miles and less frequently after that. It is pretty easy to do.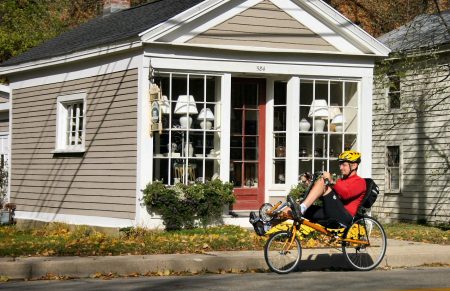 My best time in the Alfred Century-Century was 6:30 on a less expensive (but similar weight) RANS Rocket. Then I rode the course in 6:10 on a Phantom. Those aren't bad times for a guy in his 40s who rides under 1000 miles a year (I plan to ride more this year, as usual.) I've ridden that ride since in under 6:00 on a steel Reynolds Wishbone low racer, but I was comfier and had more fun on the Lightning.
---
---