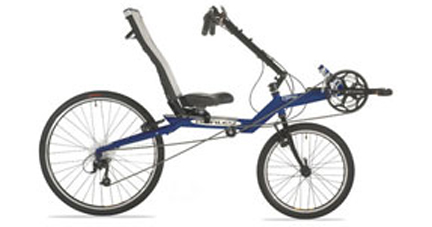 We were surprised September 8, 2006 when Burley announced it was immediately stopping recumbent production. At the time Burley was one of the largest recumbent makers in the US. They reported that their recumbent business was profitable but they were losing money overall and needed to shrink and re-focus. Michael Coughlin purchased Burley and has a good track record of saving financially troubled companies. Burley is now focusing on importing their bicycle trailers.
The rest of the information on this page is left for historical purposes.
Burley Django and HepCat Recumbent Bicycles
They are available in large and small sizes. The large will accommodate riders taller than I am (6'3″) but the seat back is a bit low. It stops noticeably just below my shoulder-blades. Two sets of bottle bosses are provided on the back of the seat. The handlebar has another set of water bottle bosses, giving a nice choice of bottle position. It uses a "flip-it" type, pivoting stem that allows plenty of adjustment to fit your size and preference. Burleys' custom Corbin saddle is nice but not as comfortable as the RANS seat; widely considered the industry standard for comfort. It is as easy to adjust as a BikeE.
The seat-back frame is aluminum, making it very light but a bit springy. Sprinting and climbing result in a bit of flex, but it still climbs very well. If you like to recline this seat will bend over backward to accommodate you. In it's more reclined positions I slide up the back when I pedal hard, especially on a steep climb.
Overall weight is ~32 lb for the large size. I always knew that someday Burley would make great recumbents that climb well. Here they are! They are some of the nicest SWB bikes available, even without my favorite seat.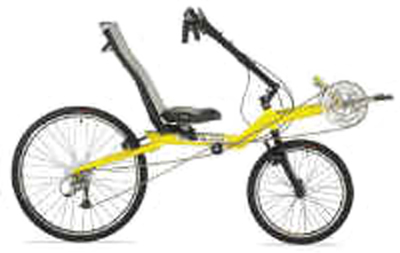 The Django is their less expensive model & the HepCat is the deluxe version. The difference between them is the level of Shimano components used. The Django uses Grip shift and Shimano Sora, Deore and Alivio while the HepCat uses Shimano XT, LX and 105. Both work well.
We are all sold out of Burley recumbents but we do have some parts and accessories that will fit Burley recumbents.
We may have some used Burley recumbents
here
.
---
---