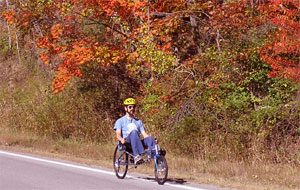 Longbikes Slipstream Recumbent Bicycle
Longbikes has a reputation for beautifully built, rugged USS recumbent bikes. The Slipstream's frame is overbuilt, giving a rigid and predictable ride. Longbikes is so sure of their solo recumbents they guaranteed the frames for riders up to 300 lb, 25 lb more than the LWB USS Linear Limo. For these larger riders, the few extra pounds a Slipstream weighs doesn't make much difference. Smaller riders under 200 lb or so may find the lighter weight of aluminum Linear Limo noticeable.
The fittings & hardware made by Longbikes are well finished and high quality. Their machining detail is excellent. An example of this is the seat struts. They are beautifully machined out of solid aluminum rods making them a bit heavier than most other struts.
The Longbikes Slipstream comes with linkage Under Seat Steering (USS.) The 1978 Avatar was the first US made recumbent with this feature, later found on the Linear, Ryan and now also the Slipstream. The linkage allows the steering geometry to be independent of the handlebar position so you can have both optimum handling and arm comfort. Most riders find the linkage steering on the Longbikes (and Linear) much better than on the old Vision USS recumbents.
The Longbikes full mesh seats are similar to the Haluzak seat but a bit more comfortable. Full mesh seats are OK but they are not my favorite. Larger riders tend to like full mesh seats better. Skinny guys like me (6'2″, 170 lb) have bony butts and tend to prefer foam-padded seats, like the seat options available on the Linears.
In 2003 Longbikes came out with their adjustable angle – folding seat design. It allows you to adjust the angle between the seat bottom and back and also folds for transport with a few wrenches. I don't think the Longbikes seat comfort is up to the high standard of the rest of the bike, but I'm skinny and prefer a padded seat.
The finish on Longbikes is excellent. Smooth welds, replaceable dropouts, glossy powder-coat paint and smoothly finished machined parts combine to give a nice appearance. With the Slipstream you get a lot of meticulous durability for your considerable investment.
If you like the relaxing LWB ride and USS position of the Slipstream (as I do), but saving over $500 sounds good to you consider also the Linear Limo recumbent. The Slipstream and Limo have similar geometry, ergonomics and ride characteristics. This makes sense as both were derived from the 1980 Avatar 2000. Most riders who like the ride of one will also like the ride of the other.
Linear Limo to Longbikes Slipstream Comparison
| | Linear Limo welded | Linear Limo folding | Longbikes Slipstream |
| --- | --- | --- | --- |
| 2018 Base Price | $2,495 | $2,850 | $3,250 |
| weight | 35.5 lb. | 35.5 lb. | 37 lb. |
| frame material | aluminum | aluminum | 4130 Chromoloy steel |
| Frame tubing | Custom extrusion | Custom extrusion | plain gauge tubes |
| machining finish | fine | fine | beautiful |
| max rider weight | 275 lb. | 275 lb. | 300 lb. |
| component quality | Very good | Very good | Very good |
| LOA (depends on frame size) | 87 | 87 | 93.5 |
| Wheelbase (depends on frame size) | 65 | 65 | 70.5 |
| seat height | 27 | 26 | 23 |
| bottom bracket height | 20 | 20 | 17.5 |
---
---