Cycle Genius ceased production in 2012. If their comfortable, relaxing LWB OSS bikes interested you then you should check out the
RANS Stratus
recumbent bike.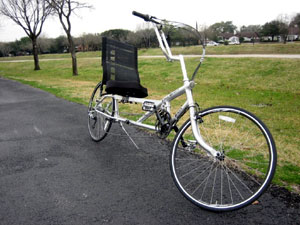 Cycle Genius Recumbents
Cycle Genius was a relatively new company when I met them at Interbike in 2001. For 2008 they have again improved their line and moved a bit more upscale with a new high end bike, the Raven dual 700c. The LTX Is now called the Falcon while the RDX is called the Raven. These two new bikes share the same LWB OSS aluminum frame. The Raven is the top of the Cycle Genius line with performance oriented dual 700c wheels and upgraded components. The Falcon uses the more rugged 20" 406 front and 26" rear tire sizes common on recumbents.
Peter,

I stopped out last week for a First time visit. I own a Cycle Genius. I was thinking about dropping the bike off for adjustment but you guys gave me some free tech advice that solved my problem immediately. You also told me that the front handle bar tube may have been installed backwards … which it was! What a difference.

Thanks for treating me like a customer and taking the time to shoot the breeze. It's so hard to find people who love their jobs and are willing to share what they know and understand … I was treated like an old friend. You guys have certainly earned any of my future business … I really like the trikes and want one Bad!
---
---