Cycle Genius ceased production in 2012. If their comfortable, relaxing LWB OSS bikes interested you then you should check out the
RANS Stratus
recumbent bike.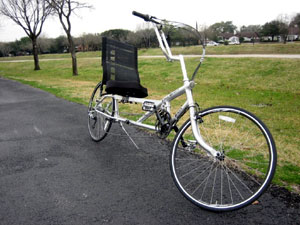 The Cycle Genius Raven
New for 2008 the Cycle Genius Raven has dual 700c wheels. They have not arrived here yet but I am looking forward to riding one.
Cycle Genius Raven Recumbent Bicycles
Though certainly not a race bike the 2008 Raven is the fastest Cycle Genius recumbent ever made. It is a LWB bike with a moderately low BB and geometry somewhat similar to the RANS Stratus XP. These bikes are versatile enough for commuting, fitness rides or light touring. The dual 700c tires are a common size; a lot of variety will be available when you need replacements. A dual 700c wheeled LWB recumbent is a large bike. It will be a bit harder to transport then most 20"x26" LWB recumbents. Most dual-large-wheel LWB recumbents are a bit harder to ride in a straight line when your speed drops on a really steep climb. Keep this in mind if you will be riding in a hilly area. Test riding is the best way to tell how you will feel on it.
The components on this bike are nice quality and work well.
The Raven comes in one size and fits most Riders from about 5'2" to 6'3″. Shorter riders may find the handlebars are to close to their chest, if so they can turn the handlebar stem forward to gain a bit of distance. Taller riders may find they have to reach a bit for the bars, especially if they like to recline the seat much.
As a sport-touring bike it is good for fast day tripping. For light tours you can put a bit wider tires on the 700c rims and it should be fine. It should be fast enough on flat roads to keep up with a lot of upright riders and most recumbents. I believe it is the least expensive recumbent on the market with two large wheels.
A note on wheel size and tire availability
Most dual large wheel recumbents use either the 26" 559 size wheels (mountain mike rims with road tires) or 26" 650c rims (road racing rims). The 26" 559 is probably the most common recumbent size wheel. A very wide variety of tires are available in the 559 size, from lightweight, skinny ~1.1" 110 psi tires to 2.3" wide monsters.
The 26" 650c wheels are racing wheels, only racing tires are available to fit it. If you want to go on a tour you will not be able to get a 1.5" wide tire. Most dual 650 c recumbents don't have room for a wider tire anyway. They also may not have room for fenders.
The 700c size rim found on the Raven has been the most common racing and touring size for a few decades. You can get skinny 23mm wide 125psi racing tires and fat 38mm tires to fit it, depending somewhat on the width of the rim.
| | |
| --- | --- |
| Frame/Fork | Aluminum Frame & Fork |
| Rear Derailleur | Sram X-9 w/alloy body |
| Front Derailleur | MicroShift Triple 9 spd bottom pull |
| Brake Calipers | Tektro Quartz w/ Carbon Fiber Inserts |
| Brake Levers | Tektro Eclipse Carbon Fiber Levers |
| Crank | Truvativ Elita Alloy Road Cranks w/ 52t/42t/30t Chainrings |
| Bottom Bracket | Truvativ ISIS Cartridge Sealed Precision Bearing |
| Rims | Alex D22 Alloy Double Wall w/Machined Side Wall, 700c |
| Hubs | Alloy Sealed Precision Bearings and Alloy Quick Release Levers |
| Spokes | 15ga. Stainless Steel with Brass Nipples |
| Tires | CST 100psi Black Skin Side Wall |
| Pedals | Alloy single sided clipless w/9/16″ axle |
| Chain | KMC 9-speed w/quicklink |
| Rear Cogs | SRAM X-7 9spd Cassette (11-13-15-18-20-22-24-28-32) |
| Shifters | Sram X-7 27 speed Twist Grip Shift |
| Handlebars | Kalloy 600mm Alloy w/ 2″ Rise and Sweep |
| Stem | Custom Kalloy Alloy with QR Adjustable Height Control & 2 Bottle Cage Mounts |
| Headset | Alloy Sealed mechanism |
| Seat | Custom 6 Way Adjustable,  Contoured Foam Base & Mesh Back w/ 2 Storage Pockets |
| Accessories | Reflectors |
| Colors | Midnight Black or DeLorian Brushed Aluminum* |
| Size | One size fits most Riders 5'1″ to 6'5″ |
---
---