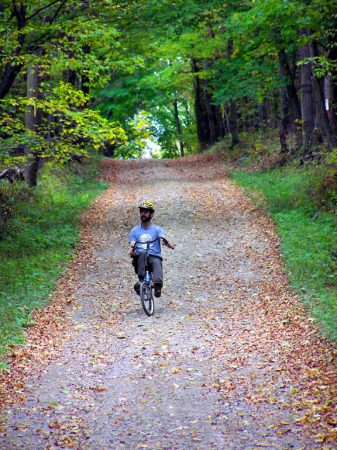 We were surprised September 8, 2006 when Burley announced it was immediately stopping recumbent production. At the time Burley was one of the largest recumbent makers in the US. They reported that their recumbent business was profitable but they were losing money overall and needed to shrink and re-focus. Michael Coughlin purchased Burley and has a good track record of saving financially troubled companies. Burley is now focusing on importing their bicycle trailers.
The rest of the information on this page is left for historical purposes.
Burley Koosah Recumbent Bicycles
The Koosah is Burley's sub $1,000 economy bike built on their new long wheelbase frame. This frame design absorbs smaller bumps and vibrations with a passive suspension to improve your comfort on moderately bumpy roads. The improved Burley seat bottom has lots more foam than last years seat which also helps. Though Burley says the Koosah frame is OK with riders up to 275 lb (with optional sprint braces over 220 lb), large riders may prefer the extra large seat base on the Sun EZ-Sport.
The Koosah handling is very good at low and high speeds. I think novices will feel at home on this bike very quickly, especially for under $900. Stable steering and a low seat height combine to make starting and stopping easy, especially nice for beginners. In fact, I'd say the Koosah is the most fun novice-friendly LWB recumbent in its price range.
The handlebars are very adjustable. They pivot up and down and in and out making them more adjustable than most LWB bars available. If you like OSS you shouldn't have trouble finding a relaxed arm position on this bike.
The Koosah is a great value. Its component quality is comparable to the Sun EZ-Sport and RANS Tailwind. The Koosah has Shimano components and easy-to-use SRAM MRX Grip Shift twist shifters. The wheels using Weinmann rims and DT spokes should keep it low maintenance. Before you buy any LWB bike under $1000 I think you should ride a Koosah.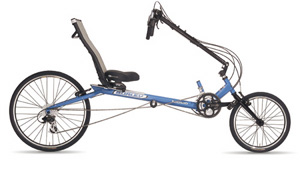 My opinion unmasked:
First, let me admit my bias: I like to see bikes made in the USA. Burley is a good company; we've done business with them since about 1990 and rarely been disappointed.
Compared to the Sun EZ-Sport the Koosah is more fun to ride, better quality and a bit lighter and faster. Its seat adjusts in more ways and its mesh back is comfier. Large riders may prefer the Sun's extra large seat base.
Compared to the RANS Tailwind the Koosah is more relaxing and stable making it easier to get used to as a first recumbent. Its seat adjusts in more ways. On a Koosah you feel road bumps much less than on the Tailwind. This is due to the Koosah's passive suspension frame and larger 26" rear wheel. The Tailwind may be faster and has a bit more comfy seat.
The Facts:
| | Burley Koosah | Sun EZ-Sport | RANS Tailwind |
| --- | --- | --- | --- |
| Price | $999 | $878 | $1149 |
| Seat back | just fine | fair | best |
| Seat base | OK, more adjustment | OK, soft & X-large | best |
| Hand/arm position | best, so adjustable! | OK | OK |
| Weight | 38 lb | 39 lb | 34 lb, light! |
| Handling | best: stable & fun | most stable | OK |
| Components | OK | OK | OK |
| Finish quality | great | seat etc look cheap | great |
| Speed | a bit faster | a bit slower | fine |
| Comfort on bumps | best | OK | worst |
| Origin | Eugene | Taiwan | Taiwan |
*If you have a pre-2004 Burley the new 2004 Burley seat base is a $90 retrofit.
We are all sold out of Burley recumbents but we do have some parts and accessories that will fit Burley recumbents.
We may have some used Burley recumbents
here
.
---
---