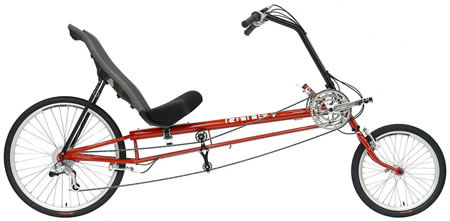 This bike is designed to be the fastest RANS bike made. It probably was till the RANS Force 5 models arrived. It is a good value at under $1400, (without a fairing.) The Velocity squared got a lower price and a less expensive parts group in 2002, and it still works very well.
RANS V2 Velocity2 (squared) Recumbent Bicycle
The V-2 uses a larger diameter, thinner wall frame tubing than previous RANS models, making it stiffer without added weight. The stiffening makes the bike faster, particularly noticeable on sprints and climbs. Rotator and Lightning have used large, thin-wall tubing for some time, it is harder to work with but the ride is worth it.
Its 20″ (406) front wheel fits a much larger variety of tires than the 20×1 1/8 (451) found on the Haluzak Hybrid-Race and the Easy Racers "SS" models. The 406 is available from (several) thin racing tires to fat, rugged touring tires and many types in-between, depending on the type of riding you'll be doing this summer. On a tour, you will find functional spare tires in bike shops that think "recumbent" is another name for a used bike (yes, this has happened.)
Tall riders, over 6'2″ and camping tourists over 5'10" or so should consider the XL frame version. Taller riders may find reaching the handlebars to be a stretch, especially if they like to recline their seat much. The velocity squared offers comfortable high performance and a good value.
New in 2004 is the RANS V-2 Formula. The Formula is an aluminum V-2 with substantially upgraded components. Higher performance, lower weight and a higher price ($2999) define this new bike.
---
---