Tadpole trikes have never been hotter and the fastest-growing segment is surely the full-suspension designs. It isn't hard to see why. Most people move to recumbent trikes with comfort issues at the forefront. More comfort is always a good thing, right?
However, with more and more coming to market every day, choosing the right one for you can be an intimidating process. We thought we'd give this little primer to help you choose. This article will focus on the popular designs from Azub, Catrike, HP Velotechnik and ICE.
We'll start out with a short primer on each brand and their general philosophy on suspension design.
AZUB Ti-Fly—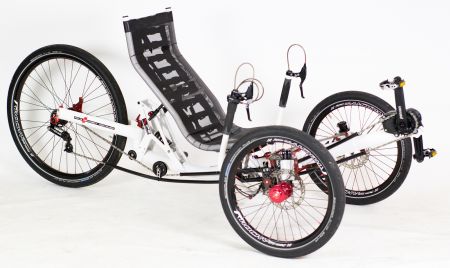 The Czech company has taken a fairly radical approach to their suspension design. Instead of using conventional springs or elastomers, AZUB has replaced the entire cruciform beam with a pair of titanium leaf springs and hydraulic dampers. The design works very well. Compared to the others its range of travel is somewhere in the middle. The rear suspension design uses a conventional mountain bike shock. The AZUB Ti-Fly folds and comes in versions with a 20" (406mm) or 26" (559mm) rear wheel. The 26" version comes with a wide rear hub and a thick through-axle to virtually eliminate the wheel flex that some trikers experience with larger rear wheels.
Catrike Dumont –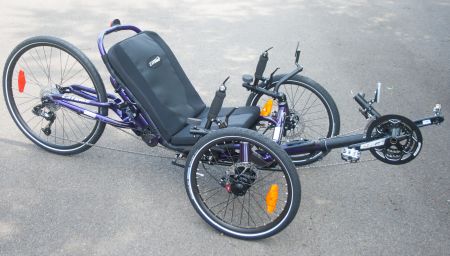 The US made Catrike Dumont is the lightest FS trike. Catrike has always been a sport-oriented company and their approach to suspension design reflects that. The elastomer-based front suspension has by far the least amount of travel of this group but its light, doesn't affect the trike's sporty handling and still has enough travel to take the edge off of road buzz and imperfections. The rear is a Rock Shox air shock that is highly adjustable and customizable. The Dumont can be folded quickly but not as small as some of the others.  Catrike also makes their Road AR, a non-folding 20" rear wheel trike that shares the same rear suspension design as the Dumont.
HP Velotechnik Scorpion fs –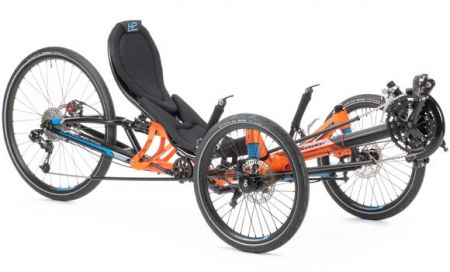 HP Velotechnik was at the forefront of full-suspension designs. The Scorpion fs debuted several years ago with its uniquely German Macpherson strut front suspension design. The Scorpion has the most travel of any of the trikes mentioned here and it is the most active. It is a heavier trike with a more complicated suspension which gives a very plush ride. The rear suspension uses a standard MTB shock and the Scorpion fs folds. It is also available with two different seats, two different seat heights and a 20" or 26" rear wheel. There is also a Scorpion fs Plus that has a higher weight limit and an even higher seat height.
ICE Sprint and Adventure-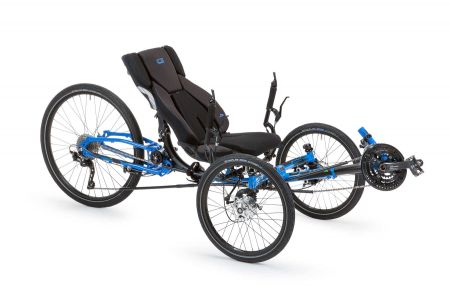 ICE offers both their Sprint and Adventure models with rear or full-suspension. The ICE system uses a parallelogram linkage system on the front with elastomers. The rear also uses elastomers. The overall travel range isn't as much as some of the trikes in this article, but the system is light, reliable and provides more than enough travel for most people. ICE trikes do fold very easily and 3 or 4 seats and a myriad of other accessory options are available. The Adventure is also available in an HD version with a wider track and a wider seat for larger riders.
Comparisons –
Moving on to a comparison of these trikes, we'll break it down into three categories: Suspension Performance; Overall Performance and Price.
Suspension Performance –
The HP Velotechnik leads the pack when it comes to suspension travel. The front suspension has nearly 2.5" of travel. It can be adjusted with stiffer springs and sway bar. However, the bias is definitely towards comfort over performance. There will be some suspension movement on the front when pedaling hard. AZUB's system is second on the "plush" scale followed very closely by ICE. Both are more than capable for most riders' needs but may not be quite as "cloud-like" as the HP Velotechnik. Catrike's suspension is aimed more at sporty performance over plush ride but still has enough to make rougher trails and streets more tolerable.
Overall Performance –
In our experience, Catrike's models are the lightest and the fastest. AZUB and ICE are again pretty much tied and HP Velotechnik lags slightly behind. Of course, performance is subjective and elements such as component selection and rider fit can alter this significantly.
Prices –
Catrike's Road AR is the cheapest trike in this article but is is only rear suspension and does not fold. The folding Dumont is slightly more and more in line with the models from ICE. The AZUB and HP Velotechnik are tied for the most expensive. However, we feel that all of the models listed here are of excellent quality and well worth their price.
Summary,
we're a bit spoiled for choice right now. Full-suspension trikes are not created equal. Each designer has a purpose in mind and their design varies accordingly. Every trike here has unique qualities that will appeal (or not) to individual buyers. The Catrike Dumont is the lightest but with least travel, the Ice Spring and Adventure rear suspension adjusts really easily and the trikes fold quickly but the seat is separated to fld. The Azub Ti-Fly is the coolest looking and 2nd best at absorbing bumps, the HP Velotechnik FS26 has the plushest suspension and is the heaviest trike. For this reason we recommend test riding as many of these trikes as you can before you make a purchase of this magnitude. It's also important to note that when you buy your trike, don't just look at the initial purchase, also look at what accessories are available. Whether that be fenders, racks, accessory mounts, etc… If you plan on customizing your trike to your needs, you have to make sure that those parts will be available before you buy.
---