The Copenhagen Wheel went off the market in 2020
This Page Left for Information Only
We get calls and e-mails daily about electric assist recumbents, or, kits to add to a recumbent.  When a new product comes in, we install it on a trike and take it down to our Clark Road hill climb test track to see how it compares to the other brands.  Then we live with it a bit to see if any quirks show up and report our findings to you.
The Copenhagen wheel is the easiest installation ever. Remove your rear wheel and switch the tire to the new wheel. Bolt the new wheel to the bike or trike. Connect the torque arm to frame with a hose clamp in a similar fashion to a coaster brake on a kid's bike. That's it.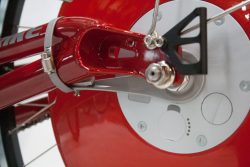 Next comes connecting your phone to the wheel. I found this to be the only annoying thing about this assist. You need to have a smart phone because it acts as the "key" and controller of the wheel. First you download the Superpedestrian app for your type of phone operating system. Then create an account that requires an email address and password. I just made a new Gmail email, so I didn't have to give them my personal info. If you want to have other people ride your bike/trike they need to do a similar process and then "ask permission" via the app. Next, turn on your Bluetooth and sync the wheel with the phone and then place your phone in a phone holder on the bike or trike and set the assist level to what you think is best. There are three settings: eco, standard and turbo (plus "on" but not assisting, just acting as a cycle computer). The first time you ride there is a calibration step that needs to be done. Basically, you pedal at your normal pace and then backpedal four or five revolutions and then you are all set.
How it Rides
Now comes the good part. This has the best feel of the different assists we have used. The harder you push on the pedals, the greater the assist. It just feels very natural and smooth. The Standard setting feels plenty powerful and fast to me on flat to rolling terrain. I was riding at the same speed on a trike as I would on my road bike which isn't usually the case. On the ride over to the test hill I was having a blast and felt superhuman. The first quarter mile of the hill is gradual, I was pedaling in the middle gears at around ten mph without much strain. Once I hit the steep section, reality came crashing back down. I shifted into the lowest gear on the trike and was pressing hard on the pedals. I was able to stay around three mph which is just slightly better than I would do without the assist. This isn't a knock against the Copenhagen wheel, I would expect similar results from most hub motor style assists. When you are pedaling up a very steep hill and going slowly that is the worst conditions for a hub motor. They operate by having magnets and copper wires pass by each other. When that happens quickly, everything is fine. When it happens slowly, it's a high strain on the system and things get hot. When I reached the top, I turned back around and was able to make use of a cool feature the hub has. When you pedal backwards in a similar way to using a coaster brake, the hub goes into regeneration mode and acts like a drag brake. It starts to recharge the battery (a little) and helps slow you down. Just don't count on it though, when the battery gets fully charged the braking effect won't continue to happen.
The Fine Print.
There are always good and bad with every product. Here are some things to know about the hub before you buy one. You need to have a bike or trike that takes 26" or 700c wheels-no 20" wheel option. You need rim brakes, no disc wheel option. Someday when you replace the cassette you need it to be de-magnetized. When you buy a Copenhagen wheel, they ask what cassette you want and supply it on the wheel. The reason for that is they have a gizmo that de-magnetizes the cassette, so it doesn't interfere with the functioning of the sensors. Your dealer should have a degausser and be able to do it for you-I bought one on Amazon for $50. Distance per charge is in the 20 to 30-mile range. Since the batteries are inside the hub, there is a limit to how big the "gas tank" can be using current battery technology.
I think the Copenhagen wheel works great for it's intended purpose. If 20 to 30-mile rides are what you do and you want something self-contained without batteries and wires running everywhere on your trike or bike, this is it. If you commute to work this is the perfect set up. The battery recharges in four hours to full, two hours to 80% so it will be ready to go when you are. You can keep riding if you use up the battery without adding any extra drag-I was surprised how well it rode with the hub turned off. Since Catrike doesn't currently have an e-assist option, this would be a great addition to a Catrike 559 or Dumont for those wanting an assist. We have our demo on a Dumont for test rides so you can try full suspension and electric assist together.
---