When I first saw the Azub T-Tris I thought it looked like a HP Velotechnik clone. Certainly not a bad thing to resemble but nothing eye catching. It just didn't stand out to me so I kind of ignored it. In the fall of 2013, Honza Galla of Azub stopped by the shop and got me interested in taking another look.
First a disclaimer, the Bicycleman was the first shop to carry Azub in the USA. The first ones came in as framesets to keep the import duty low. We built them going by pictures off the internet with parts groups that we had on hand. Now they come partially assembled with the parts groups that Azub intended to be used. That is a lot better situation for everyone involved.
I asked Honza what sets Azub apart from the competition. He said the first thing is that they are built to stand up to rough use. Honza has toured on Azubs in the Balkans, the Ukraine, Greece, Montenegro, Macedonia, Albania, Kosovo, Israel and in the Indian Himalayas. From the pictures I looked at, most of the roads would be scary in a Jeep. One good look at the T-Tris shows they are built tough. The tubing is massive, the welds are strong looking and cleanly done and the wheels have 36 spokes with beefy rims. Another thing he wanted Azub to be known for was ease of customization. At the factory they build up bikes and trikes with special parts like Rohloff internal hubs for their European customers. The good news for us is they have tweaked their frames with customization in mind. The rear dropouts are made deeper than normal so a Rohloff slips right in without special adaptors to make it work. We do a lot of customizing and that attention to detail really helps.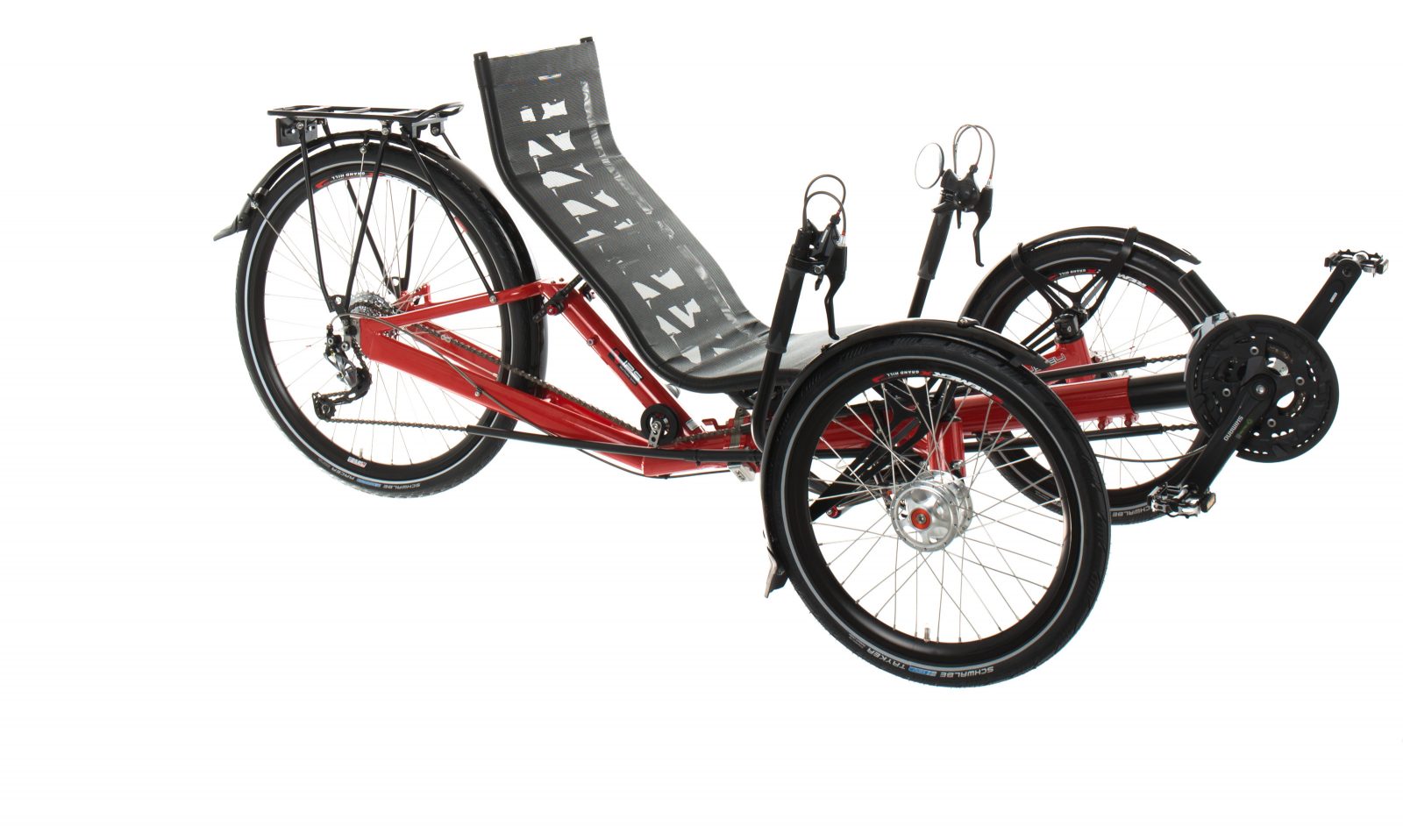 Azub goes its own way on some things but they feel they have good reason. First thing is using Shimano Alivio mountain bike shifters instead of bar-ends or gripshifts. Their argument is that the mountain bike shifters allow you to shift and brake at the same time. Also the shifters allow the brake levers to point down so your hand grips them in the same orientation as a mountain or hybrid bike.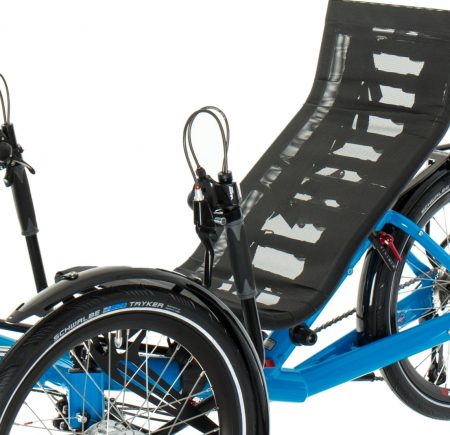 Another way they differ is by using a 24 speed drivetrain for durability instead of cost concerns. They believe an 8 speed chain will wear longer because it is thicker and less twisted in use than a 9 or 10 speed chain. Also, they argue that replacement parts are easier to find worldwide for an inexpensive group like Alivio versus something higher end. I have to say that the shifters and brake levers seem to work quite well. I wonder if the tight loops in the cables will cause more friction over time but they seem to have held up so far. They are probably right about the ease of finding parts on a tour.
The T-Tris handles very nicely and has a good turning radius for U-turns. I'm a big fan of tadpole trikes that are built in a "V" shape at the front wheels. It allows your legs to be closer to the seat getting on and off and creates more heel clearance when the boom is slid in for smaller riders. This trike will fit a wide variety of sizes because the boom and the seat can both be moved in and out. That should allow the rest of the family to try the trike without having to add or take away chain. I find the seat fits my body comfortably, VERY much like a Greenspeed trike seat. Another nice feature is the folding joint. It works similarly to an Ice trike and takes less than a minute to do without much muss or fuss.
I'm glad that Honza stopped in and made me take a second look. The T-Tris is a great riding tadpole trike and one of the least expensive quality folders.
---