Whether you call them "Crank Forward", "Semi Recumbent", "flat foot" or "comfort bike" for many riders they are a practical and comfortable alternative. These bikes can be a comfortable, low maintenance, practical, stable bicycle that is easy to get on and off of. Get some exercise while running errands, commuting or just enjoying the outdoors. CF bikes have much of the comfort of a recumbent bike but are still more traditional and super easy to get used to. If these features sound good to you maybe you should take a look at the Day 6 bikes.
Day 6 Bicycles Semi-Recumbent Crank Forward Bikes
The Day 6 has a pretty good combination of comfort, safety ergonomics, low maintenance and moderate price.
No bending forward to reach the handlebars
Both of your feet easily touch ground at stops
Adjustable, contoured backrest
11″, 15″ or 17″ wide comfort seat, your choice
Aluminum frame to keep the weight down
Dual 26″ wheels handle bumps well and tires are easy to find
Traditional styling
Standard bicycle components for easy maintenance
21 OR 7 speeds, your choice
Rustproof stainless steel chain for lower maintenance
Superior comfort:
Comfortable seats are 11″, 15″ or 17" wide.
Extended handle bars eliminate stress on the wrists.
Ergonomic – adjustable backrest support for your lower back.
Most of the comfort of a recumbent bicycle.
The ease of use of a comfort bike.
The flat footed seat height of a semi-recumbent or CF bike.
Prices closer to a quality traditional bicycle.
The comfortable Day 6 bicycle is also available with an electric assist for those who have large hills or have difficulty pedaling.
Though most electric bikes lack the ergonomic comfort of a Crank Forward you can have both comfort and electric assist. Adding an electric assist to the Day 6 Dream gives you the power and confidence to quietly go places you never thought you could.
---
Part
Specification
Model
Dream SC or SL21
Dream SS 21
Journey 7 SC
Journey SS
Frame
Aluminum 6061
X
X
X
X
Fork
Cr-Mo
X
X
X
X
Stem
Adjustable/Alloy
X
X
X
X
Head Set
Neco/Alloy
X
X
X
X
Crank
ProWheel/Allow
X
X
X
X
Tire – Front/Rear
Kenda Komfort 26 x 1.95
X
X
X
X
Tire – Front/Rear
Kenda Kraze 26 x 2.125
X
X
Rim
Alloy
X
X
X
X
Derailleur Front/Rear
Shimano Altus 21 speed
X
X
Shifter
Shimano Twist Style
X
X
X
X
Freewheel
Shimano
X
X
V-Brake – Front/Rear
ProMax/Alloy
X
X
X
X
7 Speed Internal Hub Gears
Rear only/No brake levers or cables
X
X
Seat
Velo 11″ wide seat
X
X
Seat
Day 6 Custom "Contour" 15″ wide seat
X
X
Seat Back
Day 6 Custom Injection Molded – with lumbar and integrated travel pack
X
X
X
Weight
Approximate
37
36
37
36
Wheel Base
51″
X
X
X
Weight Limit
250 pounds
X
X
X
Rider Size
5'2″ – 6'2″ Approximate
X
X
X
Colors
Cobalt Blue, Metallic Burgundy
X
X
Colors
"Cosmos" Black, "Freedom" White
X
X
---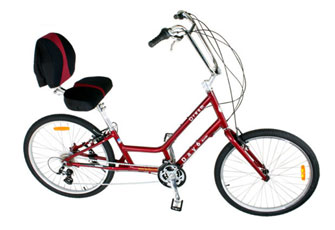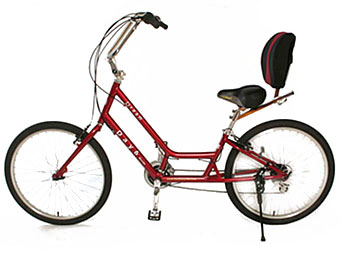 The Day 6 Dream 21 models have easy to use, wide range 21 speed derailleurs, making them better hill climbers. The Dream SS has the 11″ wide Velo bicycle seat & the Day 6 backrest. Dream SC has the 15″ wide Day 6 SC Contour recumbent style seat and the Dream SL has the 17″ wide Day 6 SL Luxury recumbent style seat.
All three have the Day 6 back rest found on all Day 6 bikes. Larger riders especially find the extra large SC and SL seat. Most riders find the SC the most comfy for longer rides. We find few riders who prefer the SL seat over the SC.
Day 6 Journey SC, SL and SS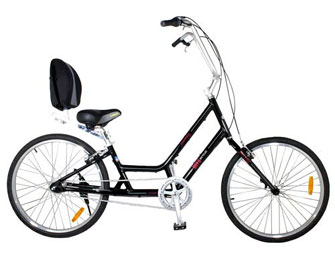 The Day 6 Journey
The Journey models have an easy to use, low maintenance 7 speed internal gear hub. The Dream SS has the 11″ wide Velo bicycle seat & the Day 6 backrest. Dream SC has the 15″ wide Day 6 SC Contour recumbent style seat and the Dream SL has the 17″ wide Day 6 SL Luxury recumbent style seat. All three have the Day 6 back rest found on all Day 6 bikes. Larger riders especially find the extra large SC and SL seat. Most riders find the SC the most comfy for longer rides. We find few riders who prefer the SL seat over the SC.
Day 6 Safety
The high seat and low handlebar position on today's road bikes allow the rider to cut through the wind and ride at higher speeds. For the casual rider this position can be uncomfortable for your your back, wrists and butt. The Day 6 Dream and Journey frames put the seat and handlebar where it is convenient and comfortable for the rider. Most riders of all ages and fitness levels quickly feel safe, confident and in control on the Day 6 bikes. Their the low seat height allows you to easily start and stop with your feet on the ground helping you stay in control at all times.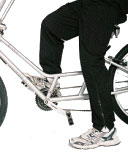 Low seat height makes the Day 6 bikes more accessible for the physically challenged.
The low center and your position behind – not over – the handlebars means it is very unlikely will pitch-over the handlebars even in a panic stop.
Day 6 Bike Accessories
Accessories are available to make your Day 6 more practical and versatile. The racks and fenders shown on these pages are chosen to specifically fit the Dream. Most any bicycle lights, bottle cages, panniers, computers, and other accessories will fit and can be purchased at your local bicycle dealer.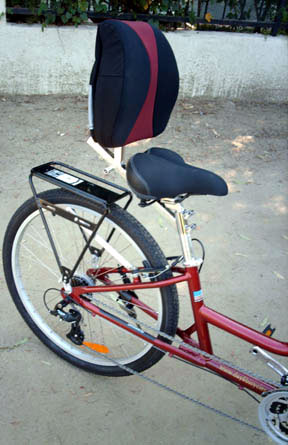 Rear Rack – Attaches to 'V' brake boss PRICE: $95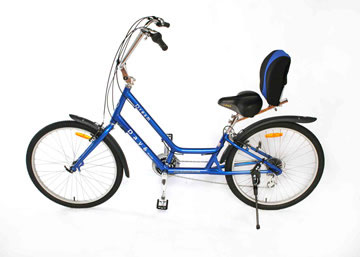 SKS Beavertail Fenders with custom hardware for Day 6
Heavy duty plastic
Lightweight
Stable mounting
German design
PRICE: $28
---
Electric Day 6 bikes!
The DreamE
It's like pedaling with the wind behind you – all the time.
Electric bikes are quiet, efficient and make hill climbs a lot easier. Many electric bikes on the market lack the comfort and ergonomics of a Day 6 Crank Forward bike. The DreamE electric bicycle is a great combination of recumbent comfort and electric assist extended range and hill climbing ease. Good for you, great for the environment, and a cost effective alternative to gas powered vehicles. The DreamE with the BionX power system is so comfortable and easy to ride you may think twice about taking the car. The cost of the DreamE is insignificant compared to a car's gas, insurance and parking.
Incredible comfort
Ride longer and faster
Traditional styling
Commute with confidence
Overcome disabilities, hills, and the wind
BionX power system
Brushless motors (250 W or 350 W) are quiet, light, maintenance free and hidden within the rear hub. (Fig. 1)
Four power levels allow you to choose how much assist you want.
Regenerative braking recharges the battery when you brake or go downhill.
Console includes speedometer, odometer, time, average speed, battery charge indicator and theft alarm. (Fig. 2)
Batteries are available in nickel metal hydride and lithium ion – in either 24 volt or 36 volt for a total of four configurations. (Fig. 3)
Choose the BionX Power System that fits you and your riding needs.
The Motors:
250 Watt (24 Volt)
Moderate hills
Less Power
Max Torque: 25 N.m
Weight: 7.7 pounds
Power assist: 25, 50, 100 & 200%
350 Watt (36 Volt)
Steeper hills
More power
Max Torque: 32 N.m
Weight: 8.8 pounds
Power assist: 35, 70, 150 & 300%
Throttle is standard on all BionX for 2009.
The Batteries:
Nickel Metal Hydride (NiMH)
Less expensive
400-500 charges
24 Volt – 9 lb / 12 mile range
Lithium Ion
Longer range and more power
500 charges
36 Volt (for 350 watt motor) 8 lb / 25 mile range
All BionX parts are warranted by BionX and not Day 6.
BionX power systems are subject to availability.
All Electric Dreams utilize a rear hub motor
All Electric Dreams are 21 speed
Day 6 Bicycle Testimonials:
"The Dream is the most easy-riding and ergonomically correct bicycle I have experienced in 55 years of riding and working with them. When you couple this rider comfort with the top quality components and fine finish, you have a very desirable product my customers can't resist."
"I have nothing but praises for the bike – it is a great ride. It is very smooth and the average speed I am able to do is even a little bit better than my upright standard bike. I have already had two days where I have ridden it over 50 miles. I am sure that once the bike is in bike shops and people are able to test ride them, there will be a huge demand for them. Thanks for checking back with me. My hands, wrists, neck, shoulders, and back are grateful for the less stressful ride the bike provides."
"I am so thrilled with your Dream bicycle. I haven't been riding for approximately five years now due to Fibromyalgia. My first ride was for 19 miles with an average over-all speed of 11.8 miles per hour. I felt wonderful afterwards, no pain to low back, shoulders or neck. My second ride was for 18 miles with an average over-all speed of 12.8 miles per hour. Again, I felt wonderful afterwards, no pain caused by riding. I would highly recommend the Dream to anyone who has back, shoulder or neck problems. The adjusting seat and handlebars allowed me to adjust the fit to my body and comfort level. The Dream would be a great bicycle for anyone, the low step through frame is a great idea for those who might not feel comfortable with a standard bicycle. The amazing thing also is that I have not experienced any leg pain either, from lack of riding."
I've been trying to deal with being uncomfortable on a standard diamond frame bike since I was in my early twenties. In my quest for more comfort I tried several "new" seats, even the really creative saddles but nothing made my butt comfortable. I tried getting the bike professionally fit to me but still never found a comfortable position.

I bought my first recumbent in 1992 and now have a collection of comfortable recumbents but none of them work well in an urban environment. I believe the ability to pop little wheelies is vital as it makes getting over curbs and obstructions just something you do. Recumbents cannot pop little wheelies.

On my Day 6 Dream, I can do it all. Sitting up at road bike height gives me a commanding view of the road and enables me to talk to regular road bike riders "face to face" rather than having them looking down at my low recumbent.

I expected older folks to be intrigued by the big seat that looks comfortable and they are. I wasn't expecting teenagers to be yelling "cool bike" and "tight" as I ride by, but they do. Having comfort and a high cool quotient adds to the fun factor of riding.

I've decided not to use clip-less pedals and have adopted a more relaxed and casual riding style with my Day 6. Outfitted with a kickstand, bell, fender, and lights, my Day 6 is a go anywhere, anytime ride.
---
---