First off let me reveal my bias:
I like the Expedition. It is rugged enough for commuting or touring but it is faster than some more expensive "performance" trikes. With a 26" rear wheel it has high gears (25" to 130"!) with standard size chainrings that will shift well. I think the big rear tire also gives a bit less rolling resistance, certainly on rougher roads (chip seal) or gravel bike paths. It also gives a bit smoother ride, never a strong point on a Catrike due to their rigid frames.
The Catrike Expedition Recumbent Tadpole Tricycle
The 26" rear, 20" front tires are probably the most widely available sizes found on a recumbent. You can find replacements at any bike shop. They may not have the tires you really want but they will get you back on the road. (700c is the other most available size.) All this and its 2008 price of $2550 is less than some heavier, slower carbon fiber trikes.
Like all Catrikes the Expedition has direct steering. Now before you say "direct steer is twitchy at high speed" try the Expedition (or the Catrike 700.) I think the long wheelbase of these trikes gives them very good high-speed stability. The best I've felt in a direct steer bike and better than many indirect steer trikes, in my opinion. The longer wheelbase also helps eliminate brake steer which is already low on a Catrike. The size of the Expedition makes it the ideal Catrike for larger riders. The frame has a 275 lb warranty weight limit, like many of the other Catrikes.
The seat recline is not adjustable, but at 37 degrees from horizontal, I find it nice. Not extreme but comfy and pretty aero. The lumbar curve on the Expedition is a nice addition I really like it. The Catrike seat cover has many buckles which allow you to in effect adjust the amount of lumbar curve but tightening and loosening them. The "space" neck rest is a nice one but I don't like neck rests much myself. Another nice addition is the TerraCycle chain idler. Quiet, smooth and durable, it may be the best idler in the business. It even has 4-¼" of ground clearance, not bad.
Now the downside (every bike/trike has them.) This is a large trike, about 80" long. It will be harder to fit in a car than most trikes. Like all Catrikes the Expedition does not fold, but the pedal boom can be removed if you have to. Like all Catrikes the seat-recline is not adjustable. Like almost all tadpole trikes I feel it is too low for riding safely in heavy traffic.
So, now you know I like the Expedition. Try one for yourself and see if YOU like it too!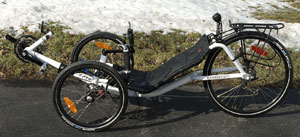 I took my new 2008 Expedition out for a short ride yesterday. I agree with you, this is one sweet trike. Gonna be a fun summer!"
Technical Data:
Wheels Front 20″ (406)
Wheel Rear 26″ (559)
Weight 35 lbs (15.9Kg)
Wheel Base 43″ (1092mm)
Wheel Track 29" (737mm)
Total Width 33″ (838mm)
Seat Height 10.0 " (254mm)
Turning Circle diameter 18′ (5.49m)
Turning Circle Radius 108″ (2.74m)
Gear Inch Range 24" to 123"
Ground Clearance 4.25" (108mm)Length Overall ~80" (set for 6' rider)
Fit & Ergonomics:
37 Degrees Ergo Seat (from horizontal)
Rider Weight Limit 275 lb
Seat Width 14″ (355mm)
Bottom Bracket 16″ (406mm)
X-Seam 39 to 46″
(Option Extra Long Boom Up to 53″)
Components:
27 Speed Drive Train
Shimano Dura Ace Bar End Shifters
Shimano LX Rear Derailleur
Avid BB7 Mechanical Disc Brakes
Avid FR5 Flat Pull Brake Lever
Truvativ Elita EXO 165mm Triple Crankset
SRAM PG 950 11-32 cassette
KMC X9 Chain
Standard Colors:
Optional Colors:

Basic: MSRP $99 (White, Yellow, Blue, Black)
Neon: MSRP $129 (Lime Green, Pink)
Sparkle: MSRP $149 (Orange, Red, British Racing Green, Blue)
Features:
Marathon Racer tires
New Boom Clamp System
Clipless Pedals
Ackerman Compensation
No Brake Steer
Self Centering
Mirror, Computer Sensor Mount
Aluminum Rod Ends
Double Bend Frame
Ergo Seat
Space Neck Rest
Terra Cycle Pulley
Catrike Owner's Manual for the 700, Expedition, Pocket, Road, Speed, & Trail (pdf 2.95Mb)
---
---