The 2020 Villager ~ a relaxing Catrike with a modest price.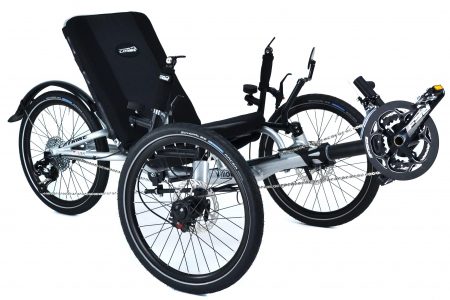 "Villager" is a good name for this affordable, versatile Catrike. Urban/suburban riders will find its higher seat and upright seat back handy in traffic. The Villager's 12.5" seat height makes it the highest Catrike and the easiest to get on and off. It is ideal for riders looking for a casual fitness or an adaptive trike. If speed is near the top of your to do list check out the other Catrikes, the Villager is relaxing instead. The seat recline adjusts from 47 to 58 degrees which is quite upright for a Catrike. The 5.5" ground clearance lets you ride over speed bumps and curb transitions without worry. To keep it stable with that high seat it is 34.5" wide, the widest Catrike.
Catrike's Villager Recumbent Tadpole Trike
Most Catrikes share the same components. Avid BB-7 disk brakes; SRAM 30 speed gearing; 30-39-52 FSA triple crank sets, it is a nice selection.
The Villager has 20" wheels all around. This means you will have a lot of tire choices to suit your trike to your riding conditions. From 2.25" wide knobbies to skinny tires for pavement, they are available for the Villager's common 20" (406) wheels.
Performance oriented riders will not like the high seat as it increases wind resistance lowering top speed and raises the center of gravity making the trike more difficult to control in panic stops.
My Review of the 2020 Catrike Villager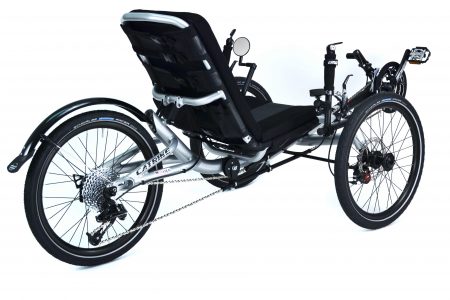 The Villager handles well. It has about the least brake steer of any trike. The higher seat makes it less stable in sharp turns or panic stops. The new removable seat pad makes it very comfortable. The seat back angle adjusts, as do the handlebars. The leg length can be adjusted without tools but you will need to change the chain length – or add a chain tensioner.
All this makes it a great trike for riders who aren't focused on speed. If they have trouble getting into or out of a low seat due to years of inactivity or disability they may like the Villager even more. And everybody likes the Villager's relatively light 34 lb weight.
So, what type of rider should try the Villager? Riders who want fun & comfort more than speed. That want a light weight, US made trike that won't bust their budget.
This Catrike is easy to ride and friendly for a casual first time buyer. And best of all, it's an affordable way to park your car for shorter trips. Human power is great for the environment and even better for your health!
| | |
| --- | --- |
| Frame & Geometry | |
| Wheel Base | 36 in |
| Wheel Track | 31 in |
| Total Width | 34.5 in |
| Total Length** | 69 in |
| Seat Angle | 47/58  deg |
| Weight | 34 lb |
| Seat Height | 12.5 in |
| Seat Width | 14 in |
| BB Height** | 17 in |
| Ground Clearance | 5.5 in |
| Total Height | 28.5 in |
| Height w/ Seat Folded | 24.5 in |
| Turning Circle | 16 ft |
| Turning Radius | 8 ft |
| Rider Weight Limit | 275 lb |
| Rider X-Seam Range | 39/46 in |
* weight includes pedals, mirror, flag and computer mount.
** varies according to riders height.
Standard Features
Rear Fender
Flag Mount and Flag
Mirracycle Rear View Mirror
Multi Purpose Clipless Pedals
Computer Sensor Mount
Quick Release Indexing Boom Clamp
Aluminum Rodends
Low Friction PTFE Flared Chain Tube
| | |
| --- | --- |
| Components | |
| Brakes | Avid BB7 Disc Brakes |
| Brake Levers | Avid Speed Dial 7 Brake Levers |
| Front Derailleur | Microshift Triple |
| Rear Derailleur | SRAM GX 10 Speed |
| Shifters | SRAM 500 TT Bar End Shifter |
| Crankset | FSA Gossamer Pro Triple |
| Bottom Bracket | FSA Road MegaExo |
| Chainrings | 30/39/52 |
| Chainring Guard | FSA Guard |
| Cassette | SRAM 11/36 10 Speed |
| Chain | KMC |
| Idler | TerraCycle Sport Power Idler 15T |
| Headsets | FSA Zero Stack |
| Front Tires | 406 Schwalbe Marathon Racer |
| Rear Tire | 406 Schwalbe Marathon Racer |
*All components are subject to change with an equivalent substitute based on availability
---