DaVinci Global Venture Tandem One Owner 2002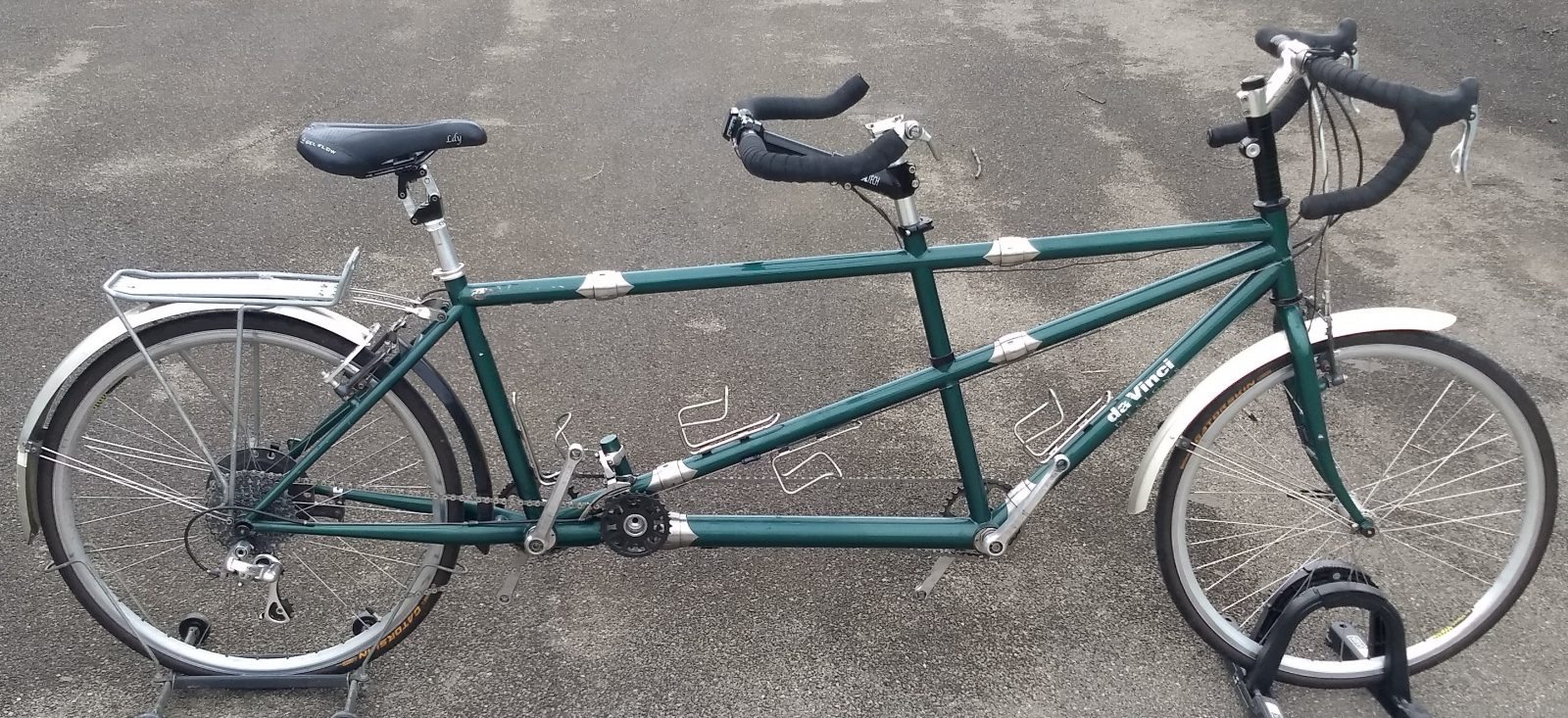 ---
Description:
This is a DaVinci Designs travel tandem with independent drive and a take-apart frame. Includes travel cases!
The independent drive allows the captain and stoker to independently pedal and coast. This makes starting and stopping as easy as on a single bike. Captain and stoker can independently relax, take a drink, adjust seat position, stand for a few seconds to relieve weary sit bones, even take a moment to gaze at scenery, while the other keeps pedaling.
Size small – medium.
The original owner is selling this ~2002 Global Venture tandem with travel cases. He is in his 80's now and now rides a recumbent. The frame has some scratches see photos.
Nothing shifts as smooth as this tandem! 4 gears up front and 9 gears in the back give you the low speed and top end only da Vinci tandems offer. The steel frame is very compliant smoothing bumps.
Medium Frame –
Front Seat Tube  22.0″
Rear Seat Tube  18.75″
Front Standover 31″
Rear Standover 27.9″
Frame Material – Reynolds Chrome-moly Steel,
Shifters – Campagnolo
Rear Derailleur – Campagnolo
Brakes – Front and rear V-brakes
Front Bars – FSA Wing Compact – 44 cm
Rear Bars – Profile Stoker 42
Front Stem – Thomson Elite X2
Rear Stem – Control Tech Adjustable Stoker
Cranks- Da Vinci Designs Billet Machined
Rear Cogs – Sram X9 11-34
Driving Gears – 13-21-29 Equivalent to 26-42-58 or 24-39-55
Eccentrics – Da Vinci Designs
Front Hub – White Industries
Rear Hub – White Industries Tandem  – 145mm
Rims- Da Vinci Designs V-23
Tires –
Front Seatpost – Thomson Elite 31.6mm
Rear Seatpost – Cane Creek Thudbuster ST
---
Order ID: 1234
---