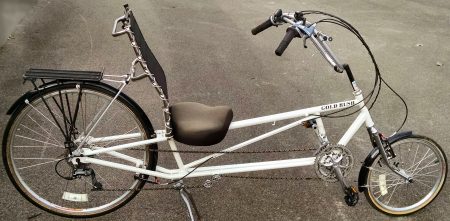 Message from the Easy Racers Facebook page dated October 23, 2021
Hi folks !
Been a while , the world has gone crazy , but Easyracers is still alive , not well , but alive , I am essentially a one man show , at the moment , took 6months to clear out of the factory … big task !
I still have ambition to get someone partner with , and get these incredible bikes , made in America , however It's Apparant that it's virtually impossible to do in California , I am in the process of trying to find partners in Oregon , perhaps if anyone knows a young frame builder , I think we can once again make a lot of people happy w one of the worlds best bicycles … so please message me if you know someone in the industry looking for a great opportunity . Stay tuned ! Thanks for our loyal and very patient customers . Denton Coetzee
Easy Racers ceased regular production in 2015.
We hope they come back but that may be optimistic.
Currently their bikes and some parts are unavailable.
We have Easy Racers front forks, chrome, 1" and 1 1/8",
Easy Racer Forks
and a few other proprietary parts.
Seats are not available and do wear out or break.
Chains, tires, brakes, gearing, wheels, are available.
Easy Racers Gold Rush Replica Recumbent Bicycle
The Gold Rush Replica (GRR) was one of the fastest production LWB recumbent bikes in the world. It was a high quality LWB with a very durable and lightweight aluminum frame.
The Replica is the same quality as the original but has gearing more suited to street use. Its reviewers called it one of the fastest and most comfortable bikes on the market. The aluminum frame is rigid in the right places but flexes for comfort over bumps.
The Gold Rush replica is no longer a racing bike. By the mid 1990's SWBs had taken over the recumbent racing scene. It's still a great sporty touring bike. The EX (for expedition) model is an ideal bike for long trips. Its long wheelbase gives it great stability with a load. You can add a Zzipper fairing and wrap-around windscreen for maximum weather protection and streamlining. There is nothing fragile about the GRR EX.
The standard "cobra" seat is the hardcore racer's choice. Its narrow back is foam over solid fiberglass, Kevlar and carbon fiber. The stiffness of the seat back gives its riders a slight speed advantage. The optional "Cool Back" seat is vastly more popular. Its full width mesh back is very comfortable. Our customers prefer the cool back seat.
We may have some used Easy Racers recumbents
here
:
Easy Racers X-Seam Sizing Chart (PDF Link)
Easy Racers What Size is my Bike? (PDF Link)
---
---