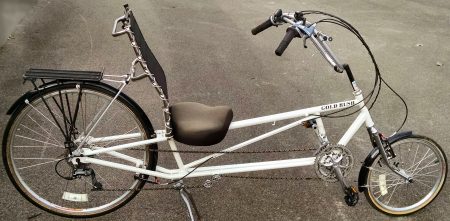 Easy Racers Message from their Facebook page on August 23, 2016
Hello, To all of our customers and fans, we would like to announce that we are in the process of moving our manufacturing overseas. Most Bicycles sold in the US are made in China. We are working with a factory in Taiwan to re-produce the Easyracer bicycles to the same standard we employed here in California.
We apologize for the interruptions in delivery of parts and service, but i would like to assure our customers that Easyracers is going to continue… probably stronger and bigger to provide the Best quality bicycles, parts and service to our existing and future Customers. Denton Coetzee.
Easy Racers Gold Rush Replica Recumbent Bicycle
The Gold Rush Replica (GRR) is one of the fastest production bikes in the world. It has pretty well defined high quality, LWB performance. The Replica is the same quality as the original but has gearing more suited to street use. Its reviewers have called it one of the fastest and most comfortable bikes on the market. The aluminum frame is rigid in the right places but flexes for comfort over bumps.
The Gold Rush replica is not just a racing bike. Its EX (for expedition) model is an ideal bike for long trips. Its long wheelbase gives it great stability with a load. You can add a Zzipper fairing and wrap-around windscreen for maximum weather protection and streamlining. There is nothing fragile about the GRR EX.
The standard "cobra" seat is the hardcore racer's choice. Its narrow back is foam over solid fiberglass, Kevlar and carbon fiber. The stiffness of the seat back gives its riders a slight speed advantage. The optional "Cool Back" seat is vastly more popular. Its full width mesh back is very comfortable. Most of our customers prefer the cool back seat.
We may have some used Easy Racers recumbents
here
:
---
---