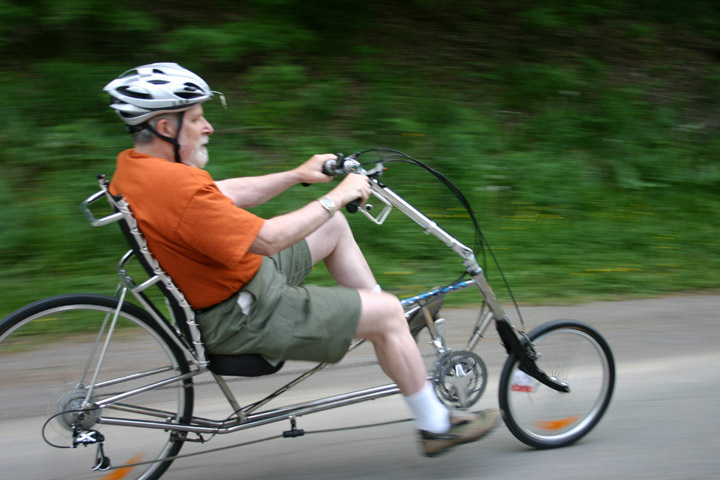 Easy Racers Message from their Facebook page on August 23, 2016
Hello, To all of our customers and fans, we would like to announce that we are in the process of moving our manufacturing overseas. Most Bicycles sold in the US are made in China. We are working with a factory in Taiwan to re-produce the Easyracer bicycles to the same standard we employed here in California.
We apologize for the interruptions in delivery of parts and service, but i would like to assure our customers that Easyracers is going to continue… probably stronger and bigger to provide the Best quality bicycles, parts and service to our existing and future Customers. Denton Coetzee.
Easy Racers TI Rush Recumbent Bicycle
The most exotic model from Easy Racers is the titanium frame TI Rush. The TI Rush takes Gardiner Martin's relaxed geometry from the Gold Rush Replica, adds the "magic" (and expense) of titanium and tops it off with Shimano XTR, Dura Ace and Ultegra top of the line components.
Its titanium frame absorbs road vibration making the TI rush very comfy. TI is also more impact, corrosion, and fatigue resistant than other bike frame materials. Your TI Rush will be with you for a long, long time.
About as fast as the Gold Rush Replica, a touch lighter and a bit smoother on bumps, this is an excellent bike for day trips and tours. It is not the fastest Easy Racers bike, the Javelin takes that honor. But many riders find the low BB and confidence inspiring stability of Gardner Martin's Easy Racers geometry much more relaxing and more comfortable for all day rides.
For 2007, Easy Racers has done away with the two pulley chain idler and in its place installed a lighter, slightly quieter, no maintenance chain tube. There is also a newly available carbon fork and adjustable handlebar/stem to take over a pound more of your dream bike. In the S&S configuration the Ti Rush can be disassembled for airline transportation. This bike is for the connoisseur, the discriminating Easy Racer fan who wants the very best, and can afford its $5000+ price.
We may have some used Easy Racers recumbents
here
:
---
---