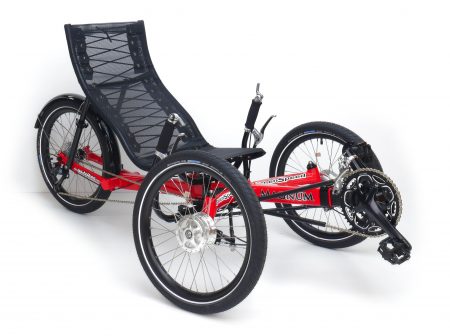 The Greenspeed Magnum is a trike for the big boys and girls out there. It came about due to a visit to the Bicycleman and some other shops by Ian Simms, owner of Greespeed. He told us that his sales were down even though when he asked shop people which trike handled the best his usually won (I would agree). While he was here he was talking to a gentleman around 5'8″ and 300lbs or so about the Greenspeed GT-3 he was sitting in. When he finished telling the customer about the many benefits of Greenspeed Ian asked him if he could take him to lunch. The customer said yes and then started squirming around trying to get out of the trike but it was too low. Ian ended up having to brace himself and help drag the man out-it was the best thing that could have happened while he was here.
The Magnum directly reflects what he learned from his visit.  The seat height is easily adjustable from 12″ to 17″ (17″ is the low setting of an office chair) which makes it one of the easiest trikes to get in and out of.  As a rider loses weight and builds strength the seat can be lowered for better high speed handling and cornering. 
The frame has a "V" shaped crossbar which allows your calves to be closer to the seat so you can sit and stand instead of fall in and squirm back out.  The wheels are one of the high points of this trike-strong rims mated to 36 spokes and an oversize drum brake hub.  They are canted outward at the bottom for more secure turning when the seat is high.  The BEST part is the push button quick release, just push the button in the center of the hub and pull and the wheel comes off in your hand.  I wish every trike would go to that.  It lets the trike fold small enough to fit in a good size trunk or a back seat without getting out tools.  There is a tiny bit of play because of the push button release instead of the usual bolt and nut method of wheel retention but I can't see where it hurts anything. 
I'm a fan of the seat also.  It was designed by a chiropractor with a nice lumbar curve and bungee cord for laces that stretch to accommodate your shape.  At the shoulder area it curves forward which puts my neck in a comfortable, neutral position.  Someone taller than my 6′ might find that it catches them in the shoulder blades like a Bacchetta seat sometimes does so try before you buy. 
Two other nice things to see are bar end shifters and a rear fender coming stock.  They are two of the most common additions we have to do to other trikes before they leave the door.
All in all I really like this trike. It handles well and has some very handy features. I wish there was a rear suspension option though. I give Ian Simms a huge amount of respect for travelling from Australia to the USA to figure out what he needed to do and then doing it. He came up with a trike with some unique features and a 400lbs weight limit that makes for a great real world trike.
---
---