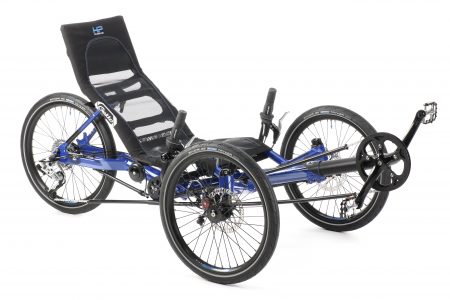 The HP Velotechnik Gekko fx is the Honda Civic of tadpole trikes. There are undoubtedly better and much more expensive machines but this is good enough for most of us.
The Gekko line falls in the medium seat height class of 13″ high.  That, combined with the "V" shaped cross members and extra long seat bottom, makes for a trike that's easy for most to get in and out of while still cornering well at speed.  The wheel base is 9cm shorter than the higher performance HP Velotechnik Scorpion which makes for a tighter turning circle for U-turns. 
The seat feels very comfortable to me.  I didn't think I would like it at first.  It's just fabric stretched over a frame without padding.  HP Velotechnik did a good job on the lumbar curve and added a slight slant forward at the shoulder blades that puts my head in a comfortable, neutral position.  They also extended the seat bottom longer than most and curved down the front edge so it doesn't rub on your legs as you pedal.  The extra length prevents that sensation of sliding forward that I feel on some trikes.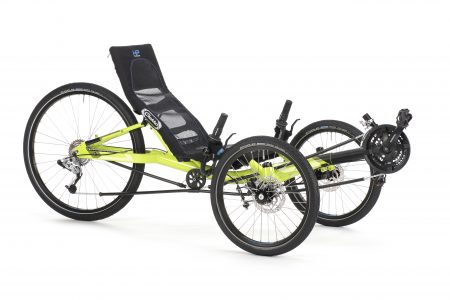 The Gekko fx rear end folds under the trike and the seat folds forward, keeping it all one piece.  The HP Velotechnik video shows someone lifting the trike in midair and slamming it together in less than 10 seconds.  Unfortunately, he doesn't come along in the box when we get the trikes.  I have to fold the seat forward, flip the trike upside down, then fold it so I can line up a rubber bumper with the hole it has to go through to latch together properly.  It takes me about a minute and a little bit of swearing under my breath if I haven't done it in awhile.  Once it's latched you can roll the trike on the tiny wheels under the seat that let it be pulled along like luggage. 
I've seen some of the chain tubes get a flattened area or kink in them if the trikes are stored folded.  It makes for some extra noise and resistance to the chain until it rounds back out.  If it happens to you, find the spot and squeeze the tube back to round with your fingers or pliers.  Also check the spots where the chain tubes are connected together with zip ties.  I've seen them work apart from the tugging of folding and unfolding over time.  They just need to be pushed back together and an extra zip tie added.
I believe the HP Velotechnik Gekko fx is a well thought out, general purpose tadpole trike at a reasonable price.  If money IS an object for you then it should be on your "test ride for sure" list when you come here.  As always, try before you buy.  
---