New KMX K-3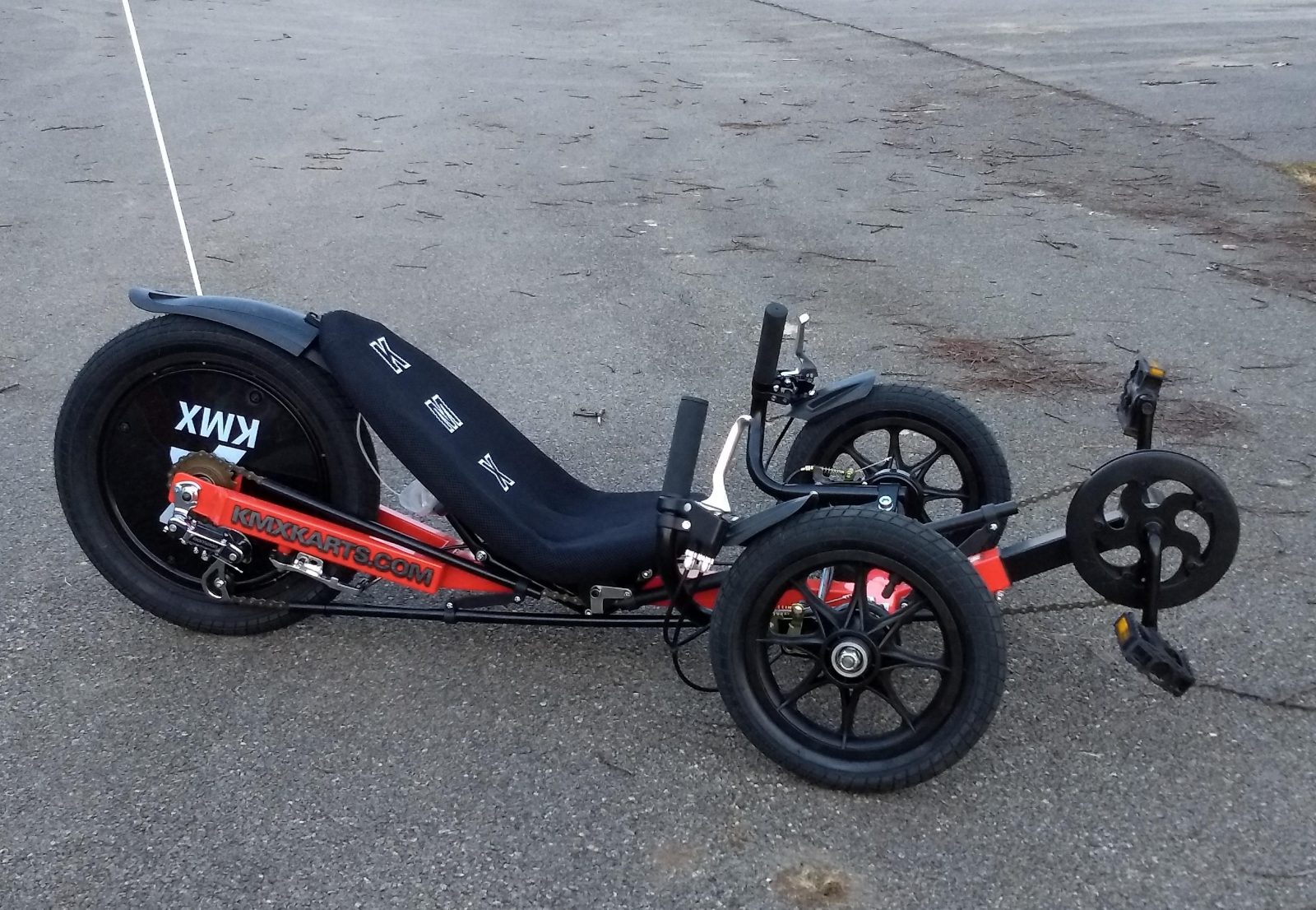 ---
Description:
The K-3 is a great introduction to recumbent cycling.
The KMX K-3 Is a very rugged trike for kids about 4 to 12 years of age, depending on height. Its single speed gearing, reliable band brakes and direct steering make it simple and low maintenance. The low center of gravity gives responsive handling and safer cornering. The comfortable bucket seat easily adjusts 2.5" without tools. The frame adjusts another 6" making this trike very versatile.
The K-3 may be small, but it is built to the same standards as the adult KMX trikes.
Specifications:
X-Seam Range:  25-34″ (4-12 years of age)
Seat Type: Molded/Padded
Brakes: Front Hub Brakes/V-Brake Rear
Brake Levers: Promax Single/dual
Parking Brake:  Promax Rear V-Brake Lever Locks
Steering: Direct
Weight Limit: 145 lbs.
Total Weight:  35 lbs.
Seat Height: 5.25″
Overall Length: 54″ +/-
Overall Width:  28″
Overall Height: 18″
BB Height: 9″
Seat Angle:  42°
Wheelbase: 32″
Gear Range: Appx 33″
Rear chain tensioner: Monsoon
Crankset: One piece steel 4.5" (112mm) Crankarms
Front sprocket: 38 t.
Rear cog: 20t
Front wheels: Mag wheels
Front Tire: 12 x 2.125″
Rear Tire: 16 x 2.125″
Tube Type: Schrader Valve
---
Order ID: 2449
---