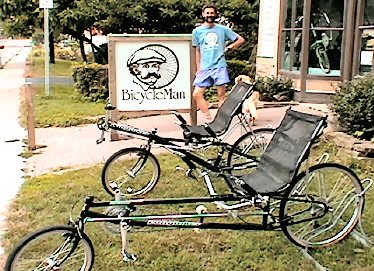 Longbikes Single Rider Recumbent Bicycles
The Longbikes Slipstream and Eliminator recumbents were new models in 2000. The Eliminator was a fresh design while the Slipstream borrowed from the Ryan Vanguard design, which derived from the 1980 Avatar 2000. Like all Longbikes recumbents, the Slipstream and Eliminator are very well built, with extremely high-quality fittings & hardware. The frame and manufacturing detail is overdone, which is great. They are both available primarily with Under Seat Steering (USS.) Longbikes has a hi-tech background and deserves its excellent reputation for quality.
They both use the Longbikes full mesh seats, similar to the Haluzak seat but more comfortable. Full mesh seats are OK but they are not my favorite. Larger riders tend to like full mesh seats better. In 2003 Longbikes came out with a new adjustable angle – folding seat design. It allows you to adjust the angle between the seat base and back to fine tune your comfort. It also folds for transport.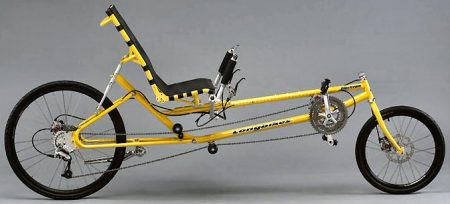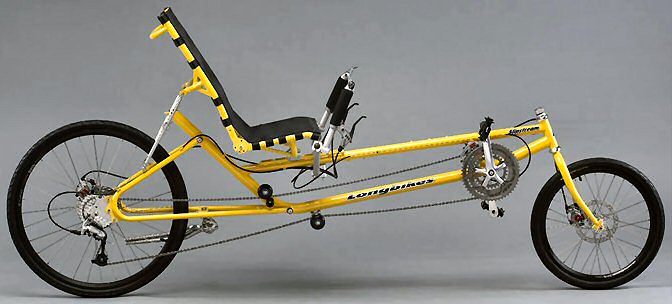 Longbikes overbuilds their bikes. The frames are overbuilt, giving rigid-very predictable handling. Their machining detail is excellent. An example of this is the seat struts. They are machined out of solid aluminum rods making them a bit heavier that other struts. I'd never seen a seat strut break till RANS came out with the cut away ends in 2003, I'll be amazed if I ever see a broken Longbikes seat strut.
The front USS handlebars are extremely adjustable, even the bar-ends can adjust in and out to your preference. These bar-ends may move side to side a bit, an annoyance but they do not move forward and back on the handlebars, which would be unsafe. This may be remedied on the 2004 models (which should arrive any day.) The hand position is excellent, better than on the old Vision USS recumbents.
The finish on Longbikes is excellent. Smooth welds, unique, replaceable, bombproof dropouts, flawless glossy paint, and finely detailed and finished machined parts combine to give an overall appearance that is beautiful. I have seen a lot of recumbents few are finished this well.
The seats aren't as nice as the RANS seats but are pretty comfortable. Because they have an unpadded mesh base lighter riders may like them less and heavier riders should like them more. We are skinny and felt the comfort of the mesh seats is not up to the very high level of the rest of the bike.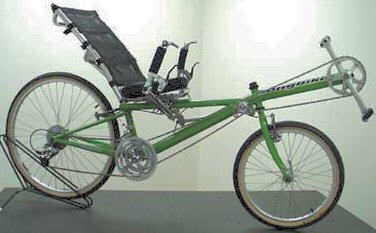 The Longbikes Eliminator, a standout among the few high-quality rugged short-wheel-base (SWB) under-seat-steering (USS) recumbents, has new features for 2005. The stout frame on the Eliminator gains an adjustable pedal boom and new chain idler with easily replaceable sprockets. It makes it stiff, stable and warranted for riders up to 300 lb.
The new adjustable pedal boom works with the adjustable seat allowing optimal weight distribution loaded or unloaded. Move the seat and pedals a bit to the rear when not carrying large loads; forward for touring with a load. Moving the pedal boom to center your weight requires changing the length of the front chain so you won't do it often.
Features and Options:
Chain management: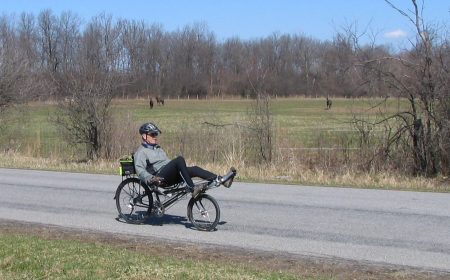 The 3 chains on this bike keep chain noise to a minimum. The front chain tension is adjusted by moving the pedal boom slightly. The center chain is adjusted with an eccentric. The rear chain which does all the shifting is similar in length to a traditional bike to keep chain weight near what Shimano designed for helping the rear derailleur work like it should to give you crisp shifting. On the other hand, the Slipstream, (and most other recumbents) with only one chain shifts well too.
The crankset has a single 32 tooth chain ring. Behind that, near the headset, there is a pair of adjustable idler sprockets to raise the chain above the fork and create shorter manageable lengths of chain, rather than one really long chain. Under the seat, there is a spider that carries four chainrings. A chain drives the spider from the inner of the four chainrings.
The "front" derailleur is here, shifting between the other three sprockets. It shifts well but like on our RANS Screamer tandem you can't see it shift. The 3 chain setup shifts great, weighs a bit more and requires infrequent but careful adjustment.
Custom Components:
Longbikes has their our own custom recumbent crankset made, chain rings too. The chain idlers, frame, and seat hardware are made in Colorado by Longbikes. They have the beautiful design and finish Longbikes is famous for.
Comfort:
Longbikes standard "Hip Hinge" seat provides for independent adjustment of seat tilt and back recline. Seat bottom rotates on the seat mount for tilt adjustment. This allows you to set a posterior tilt to prevent you from sliding out without causing so much back recline that you strain your neck. The four incremental adjustment positions allow a seat to back angle of 95-115 degrees in 5-degree increments to fine tune the back position as well. A pair of adjustable struts provides support between the frame and the seat assembly.
Quality:
Longbikes doesn't like wimpy components. Their dovetail seat rail and mating mount are examples of their attitude toward design. Not light duty parts, they won't slip. More work on their part, but Longbikes design philosophy usually doesn't do things the easy way!
Overall it is a very enjoyable ride,
Now that Vision is out of business and Haluzaks are harder to come by the Longbikes Eliminator stands alone as the SWB USS recumbent of choice.
---
---