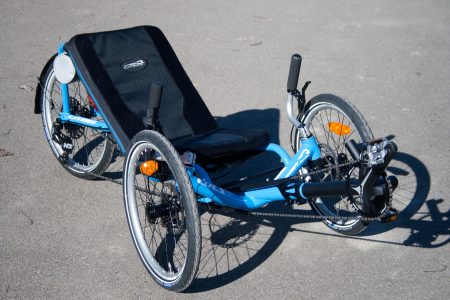 The new Catrike Eola has arrived at the shop!
The new Eola is Catrikes lowest price trike available, but that doesn't mean it is lacking features.
Featuring a simple 11 speed drivetrain, the Eola has a gear inch range of 18.7 to 71.3.
When compared to the competition this stacks up very well:
Rambler N380 22-83 Gear Inches
Rambler 16 27-106 Gear Inches (Double Front Chainrings)
Rambler 30 18-93 Gear Inches (Triple Front Chainrings)
Weighing in at 33lbs this trike is also among the lighter weight trikes available, making it a good option for someone who needs to lift it regularly.
The Eola has a very similar riding position to the Pocket but is a little wider and a little longer.
Compare some of the similar specs below
| | Eola | Pocket |
| --- | --- | --- |
| Seat Angle | 41° | 41° |
| Seat Height | 9.5″ | 9″ |
| BB Height | 14.5″ | 15″ |
| Seat Width | 14″ | 14″ |
---