RANS introduced their Crank Forward bikes in 2003. Whether you call them "Semi Recumbent bikes" or "Flat foot bikes" they are very comfortable bikes. Designed to be easy for almost anyone to get on and ride right away. They have most of the comfort of a recumbent bike with almost none of the learning curve. The Fusion is one of their Crank Forward bikes.
RANS Fusion Recumbent Bicycle
The Fusion design is halfway between a typical Comfort bicycle and a recumbent bike. It puts the pedals farther forward than on a comfort bike.
This has two advantages:
You can easily reach the ground from the seat even when it is adjusted to give you maximum pedaling ease. When adjusted for a shorter rider the seat is only 25″ high, for a tall rider it is still only 30″ high.
Because the pedals aren't under the seat, the seat doesn't have to fit between your legs. The Fusion can use a very wide comfortable seat without chafing your thighs as a seat this wide would on a regular comfort bike.
There are two main drawbacks to this design:
It is harder to stand up for more power on a hill climb like you could on a regular comfort bike.
You do not have the aerodynamic advantage of a recumbent on flat roads and downhills.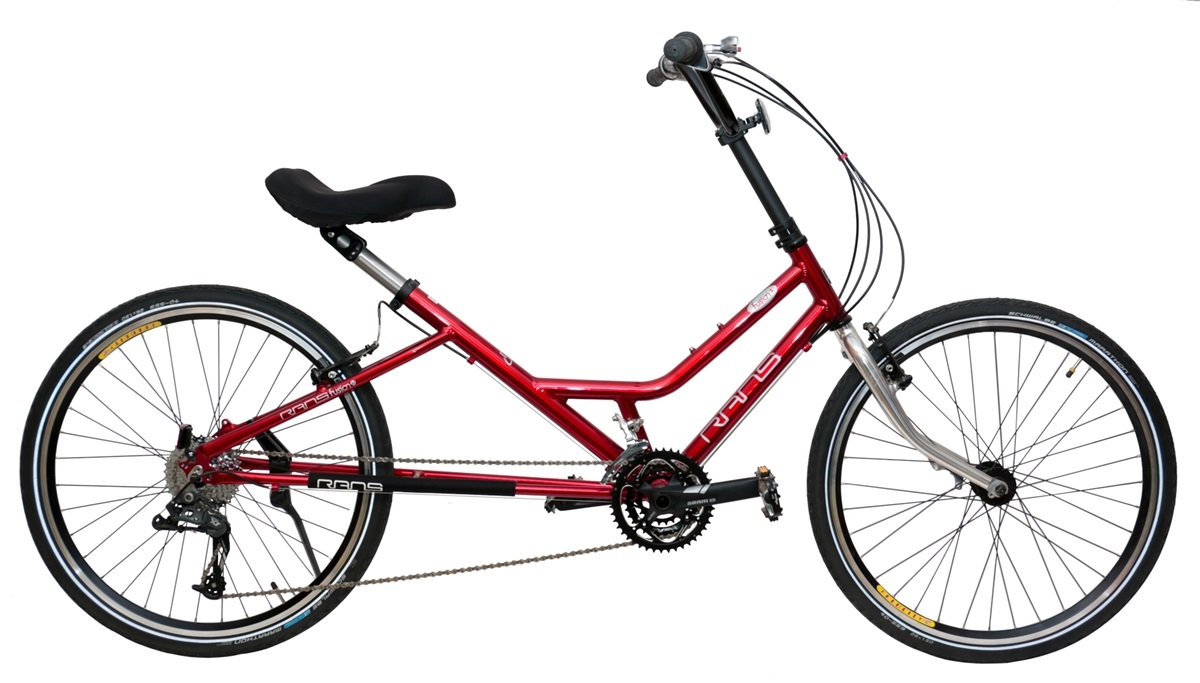 The Fusion seat post has a keyway to keep the seat from turning to the side.
The RANS crank forward seats have a quick release so you can adjust the seat position without tools. The Fusion frame is made from aluminum, keeping the bikes weight down to 28 lbs.
The RANS Top-Loading stem means you can change handlebars to customize your bike if you want to. The 53-inch wheelbase makes it more compact and maneuverable than many recumbents.
The Fusion comes in one size making it easier to fit a variety of riders than a comfort bike. The seat adjusts 9 inches to fit most riders from about 5′ to 6′ 4″.
If you are looking for a racing bike this is not the bike for you. This bike is for riders seeking the comfort of a recumbent with the some of the compact convenience and familiar handling of a conventional bike. If that sounds like you the Fusion is worth a test ride.
---
---