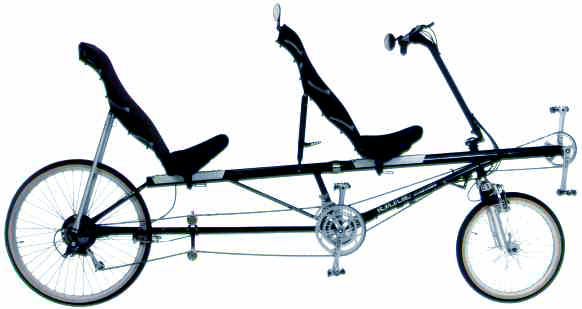 Linda & I have ridden the Screamer, Screamer Sport and Screamer TR recumbent tandems. We try to always have one for test riding (and for our use!) These bikes are difficult to tell apart without looking at the decals, paint color or price tag. They all ride fine in our opinion. We are just as happy riding a Screamer TR as any.
Its components are the same quality as the Screamer. Their V-type brakes & rear Arai drum brakes provide plenty of stopping power. We can add optional Magura hydraulic rim caliper brakes (they are the best we have seen but are not needed in our opinion.) On a Screamer TR, the hydraulic lines do not come apart easily for disassembling and packing.
Their climbing ability and high-speed stability and control are indistinguishable to us.
RANS Screamer TR Tandem Recumbent Bicycle
We think all the Screamers are the highest performance, best climbing, most comfortable & most stable recumbent tandems we have ridden. (The Longbikes Eliminator tandem is a very close second and can be ordered with S&S couplings for airline travel. A captain who prefers USS should try the Longbikes Eliminator tandem for the best upper body comfort.)
The Screamers all use identical seats, their comfort is excellent. The new Rad-Lock seat clamps made standard on all RANS bikes in 2004 makes it even easier to remove the seats while disassembling the TR.
If the front rider is tall, the Screamer TR is available in XL versions. At 6'3 I am about the tallest captain to fit the standard size. The Sport is only available in standard size. When the front is adjusted for me (6'3″ & full recline) a stoker may hit their toes or shins on the captain's seat, and a seat bag on the front seat would interfere with their knees.
The Screamer is also available as the TR (traveling) model that disassembles to pack in a box for airline travel. The Screamer TR rides just the same as the regular Screamer, but can be disassembled for shipping; a real advantage for couples planning on airline travel to and from bike tours.
The TR rides just as well as the regular Screamer. Screamers are assembled in the USA; Screamer Sports are assembled in Taiwan. They share identical Taiwanese frames. The Screamer TR uses the same frame, which is modified here with the S&S couplings.
Stokers viewpoint:
Linda, my wife likes all the Screamer models. I say she can't tell them apart from the back seat.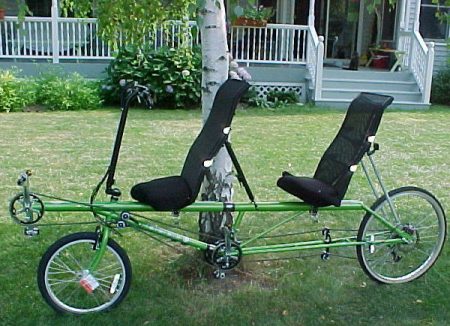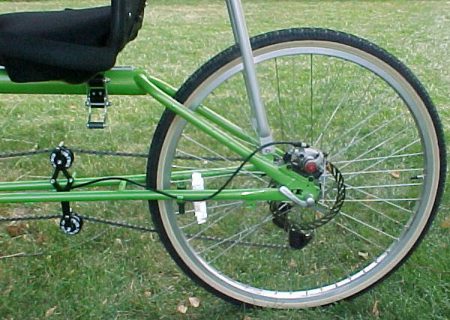 A custom Screamer TR with rear mechanical disk brake
---
---