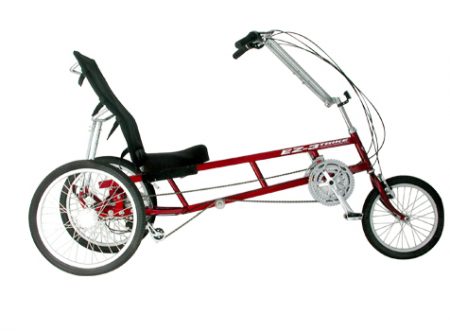 The EZ Tri Classic is very comfortable with a large cushy seat. It is a good trike for someone who needs exercise and local transportation but doesn't think they have the strength or coordination to ride a two-wheeled traditional bike or recumbent. It is slow and heavy but stable at lower speeds.
Sun EZ Tri Classic Recumbent Tricycle
The EZ Tri Classic seat is high enough to make getting on and off easy. We have had customers with medical conditions such as Parkinson's and severe arthritis that thought they wouldn't be able to ride who found the EZ Tri Classic a joy. One rider's condition forces him to walk with a walker but he was able to enjoy the EZ Tri Classic on his first ride.
Its low-speed handling is very easy to get used to. It is easy to get onto and off of, even for some riders who have trouble walking. One of the nice things about a trike is low-speed stability. You can climb as slowly as you like and not fall over, and you can stop for a rest without getting off. We can give it custom low gears to make it climb any paved hill.
It is heavy at 67 lb and not the bike for someone who wants to go fast, even on descents. After taking a sixteen-mile ride on one I have to report it is even comfier and not as slow as I had expected. Over 20 mph it's high-speed handling is poor-to-unsafe. Its high-speed emergency handling is terrible. The front rim brake and rear disk brake work well, you shouldn't have any trouble keeping your speed down. The rear brake pulls the bike slightly to the right.
EZ Tri Classic
Specs:
| | |
| --- | --- |
| Fork: | 1020 Steel |
| Rims: | Alloy 28/36 |
| Spokes: | Stainless |
| Tire, F: | Kenda 16 x 1.5 |
| Tire, R: | Kenda Kwest 20 x 1.5 |
| Hubs: | QR front / Trike rear |
| Brakes: | V brake front / Winzip disc R. |
| Brake Levers: | Promax w/ parking buttons |
| Derailleur F: | Microshift |
| Derailleur R: | Shimano  Acera |
| Shifters: | SRAM  MRX Gripshift |
| Cassette: | 14-28 7 |
| Crankset: | Tracer 170 |
| Bottom Bracket: | Loose ball |
| Chainrings: |  28/38/48 |
| Gear Inch range: | 19-69 |
| Seat: | Cool Back Adjustable |
| Headset: | YST |
| Handlebar/Riser: | EZ1 Steel |
| Chain: | KMC Z |
| Weight: | 56 |
| Color: | Red, Blue |
Sun Bicycles Recumbent Owner's Manuals
Sun 2008 to Date Owner's Manual – For Sun Bicycles 2008 models to date
Sun 2007 & Earlier Owner's Manual – For Sun EZ Series 2007 and Older
---
Click on the links below to read more about the SUN recumbent bike and trike models.
---