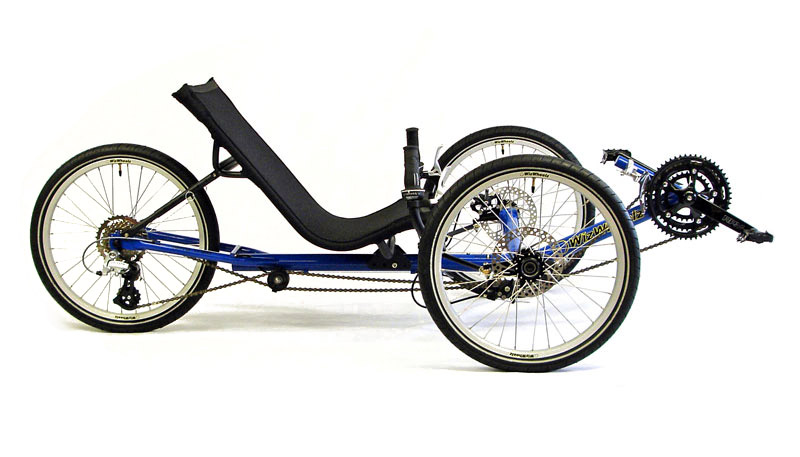 The WizWheelz Cruiser is the most economical TerraTrike with a good gear range for hills. They kept it ~$500 less expensive than the Tour by using less expensive components but the same frame-seat-handlebar setup.
WizWheelz TerraTrike Cruiser Tadpole Recumbent Tricycles
The Shimano Altus derailleurs and Gripshift shifters work well, though I personally prefer the Tour's Bar-Con shift levers. Many riders find twist grips on a USS recumbent are awkward and some find them a strain. Designed for a mountain bike where you twist them with your index and middle fingers, they are a bit stiff to work with your pinky and ring fingers, like you do with them set up on USS handlebars.
The Disk brake calipers on the Cruiser are difficult to adjust; you fiddle with them trying to eliminate mushy feel and constant drag. When carefully adjusted they work pretty well.
Overall the Cruiser rides well and is a very good value.
Good beginner trike for casual cruising
Chromoly Steel frame
Adjustable seat with adjustable recline
Indirect steering with adjustable USS handlebars
Multiple frame sizes
Cheap mechanical disk brakes
Shimano Altus derailleurs shift well
Gripshift twist shifters-some riders find they lack the hand strength to operate them.
24-speed drivetrain
Blue Powdercoat paint
---
---