Here at the Bicycle Man we see plenty of folks who start out by saying, "I've been researching recumbents for three years on the Internet and have decided I need this one". After asking them some questions we often head in a different direction.
While a Catrike 700 or an Ice Vortex might seem to fulfill your need for speed, the reality of getting in and out of their low seat might change your mind if you are a "Clydesdale" like me. For the more "economy" size rider there are two great choices – the Ice Adventure HD and the Greenspeed Magnum.
Ice Adventure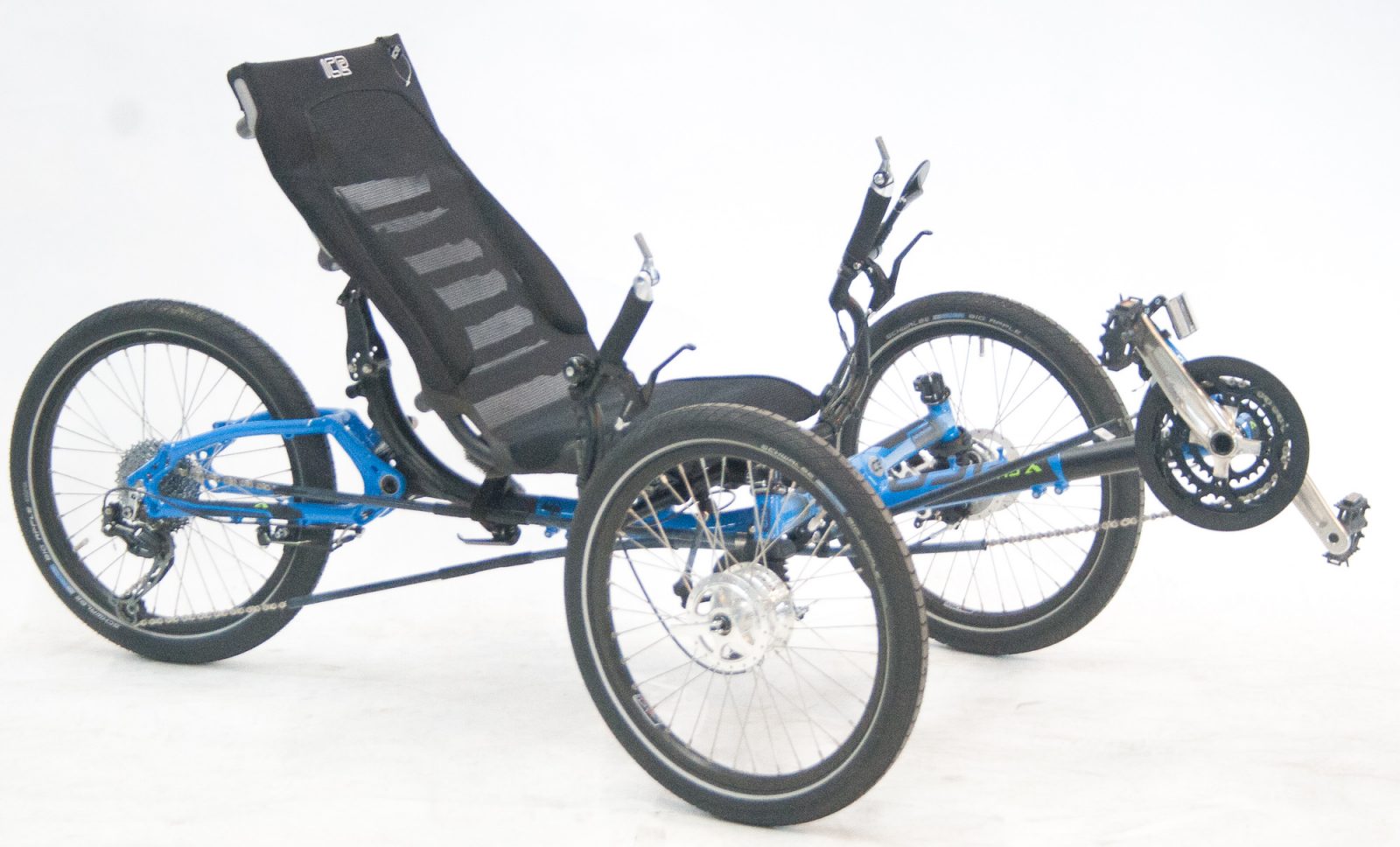 The Ice Adventure HD takes their best selling regular Adventure and "supersizes" the seat, wheel spread, and tires. The Adventure is a popular trike for a lot of reasons. It folds in half in 15 seconds and two of them can fit into most hatchbacks. It's modular, meaning we can configure it as a rigid, rear suspended or fully suspended trike. We can even add these features later if your needs change though it's less expensive to buy it with suspension than to add it later.
The HD version differs by having the front wheels 2″ wider apart to make room for a seat that is 1 1/2″ wider and 1 1/2″ deeper. That depth helps get you sit more at the back of the seat and decreases the feeling of sliding off the front when the seat is very upright. The wider stance also allows you to turn the handlebars farther before the handlebars hit your thighs.
The tire size goes from 1.5″ to 2″ for durability, a smoother ride and less chance of flat tires. We tell people to tell their friends the HD stands for Harley Davidson and to put cards in the spokes for that sexy motorcycle sound!
Greenspeed Magnum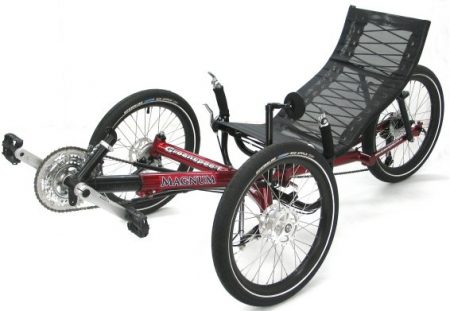 The Greenspeed Magnum came about after Ian Simms, owner of Greenspeed spent a few days at the Bicycle Man and some other shops. He told us that his trikes were losing market share even though many recumbent shop employees think they handle bester than others. (I agree).
While here Ian got a gentleman around 5'9″ and 300 lbs to sit in a Greenspeed GT-3. When Ian finished telling the customer about the benefits of the GT3 he invited him to lunch. The customer then started squirming around trying to get out of the trike but couldn't because its seat was so low. Ian braced himself and helped lift the man out of the seat. It was an "Aha" moment for Ian.
The Magnum directly reflects what he learned while he was here. The seat height is easily adjustable from 12″ to 17″ which makes it one of the easiest trikes to get in and out of. As you lose weight and get stronger the seat can be lowered for better high speed handling and cornering.
The frame has a "V" shaped crossbar which allows your calves to be closer to the seat so you can more easily sit and stand instead of fall in and squirm back out. The wheels are one of the high points of this trike-strong rims mated to oversized drum brake hub with 36 spokes. They are canted outward at the bottom for more secure turning when the seat is high.
The BEST part is the push button quick release. You just push a button at the center of the hub and pull the wheel off. I wish every trike would go to that. It helps the trike fold small enough to fit in a good size trunk or a back seat without getting out tools. All these great features combined with a 400 lb weight limit makes for an excellent real world trike.
Now larger riders have another choice besides the 8 speed Terratrike Rover.
With such a variety of trikes available we recommend test riding a good variety before picking your favorite. A good test ride is at least a few miles long and includes terrain similar to what you plan to ride. Ideally you would ride a few trike models from several trike brands. Once you know what you like only then are you ready to make a purchase.
---