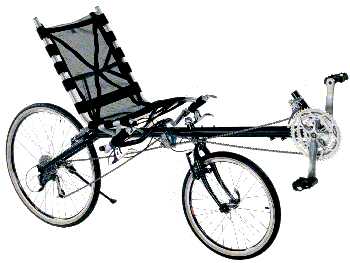 On 1/4/07 Bill Haluzak told me he is calling it quits from the bicycle manufacturing business. He said the main issue was getting Shimano parts when he needs them. He will still be making and selling parts and accessories for his existing bikes but will no longer be making or selling new Haluzak Recumbents. We will try to keep some Haluzak Recumbent parts and accessories in stock as long as they are available.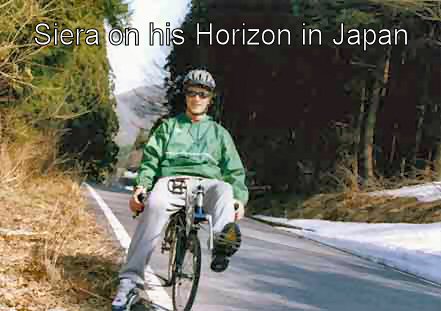 For years, Bill Haluzak has been building the Haluzak Horizon, Leprechaun, and Hybrid race Short Wheel Base, Under Seat Steering recumbents. In 2002 and 2003 he also built his Triumph delta trike. Bill designed and built the Horizon, Leprechaun and Hybrid race, some of the finest SWB, USS recumbent bikes in the world. All these bikes are similarly designed and change little from year to year. In fact, it is difficult to tell them apart in pictures.
The Haluzak Horizon, their original and most popular recumbent
About 99% of Haluzak's recumbents are USS, SWB bikes with bar-ends and bar-con shifters. Their rider position, handling, and comfort are similar. You can order a Haluzak with OSS handlebars; these are about 1% of their sales. The frame finish detail, rider position, and low-speed handling are excellent.
High-quality Shimano components and Bar-Con shifters combined with short cable runs make gear shifting on the Haluzak pretty easy. The newer Haluzak chain idler (double grove, over/under design made form a skateboard wheel) is nearly silent and trouble free. The USS handlebar and bar-end combination gives a hand-arm position as comfortable as any USS 'bent. Their low-speed maneuverability is excellent, high-speed stability is not so good. Haluzak's climb well, too but are not fast on the flats.
The Haluzak Horizon and Leprechaun bikes and Triumph trike can take a while to order. Bill Haluzak builds them himself and sometimes has trouble keeping up with demand.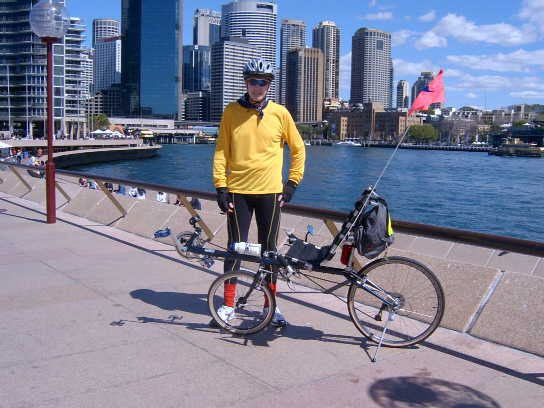 We are all sold out of Haluzak recumbents but we do have some parts and accessories that will fit Haluzak recumbents.
We may have some used Haluzak recumbents
here
:
---
---