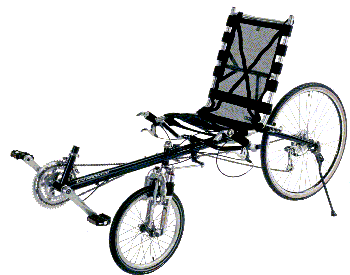 On 1/4/07 Bill Haluzak told me he is calling it quits from the bicycle manufacturing business. He said the main issue was getting Shimano parts when he needs them. He will still be making and selling parts and accessories for his existing bikes but will no longer be making or selling new Haluzak Recumbents. We will try to keep some Haluzak Recumbent parts and accessories in stock as long as they are available.
The Haluzak Leprechaun, USS for the petite rider
Of all USS SWB bikes, the Haluzak is among the most intuitive for the beginner. As with all USS bikes, you can mount accessories on the handlebars but you may not be able to see them. Your speedometer will have to go elsewhere, not an insurmountable problem. As with all USS bikes adding lights and Speedo's will require the purchase of an optional mount (or some ingenuity.)
All Haluzak models share the same seat. It is frame is light welded aluminum. The seat fabric is among the most durable and breathes well. It is unpadded. I have not been able to get really comfortable on it but Haluzak owners rarely complain. Haluzak says it breaks in to fit you in a few hundred miles. The typical Haluzak owner is very loyal to their bike.
The Haluzak Horizon and Leprechaun recumbent bikes and Triumf recumbent delta trike can take a while to order. Bill Haluzak builds them himself and sometimes has trouble keeping up with demand.
We are all sold out of Haluzak recumbents but we do have some parts and accessories that will fit Haluzak recumbents.
We may have some used Haluzak recumbents
here
:
---
---