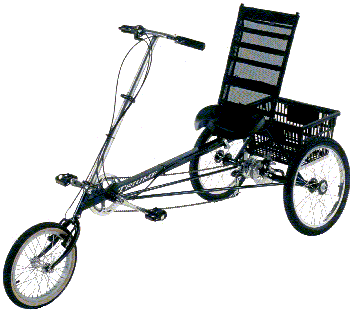 The Haluzak Triumf trike is no longer being made. If you are looking for a recumbent delta trike for under $2600 that isn't too heavy you might look at the Greenspeed Anura or the Sun EZ-3 AX
On 1/4/07 Bill Haluzak told me he is calling it quits from the bicycle manufacturing business. He said the main issue was getting Shimano parts when he needs them. He will still be making and selling parts and accessories for his existing bikes but will no longer be making or selling new Haluzak Recumbents. We will try to keep some Haluzak Recumbent parts and accessories in stock as long as they are available.
The Haluzak Triumf Delta Trike
Bill Haluzak developed the Haluzak Triumf in response to inquiries about a trike for physically challenged riders. His design Triumph resulted in this US made delta trike. Weighing in at 46 lb it was the lightest delta trike in the $1500 price range. Quite stable and simple to operate, the Triumf's 22" seat height makes it pretty easy to get onto and off of, and high enough to see and be seen in traffic. The big and comfy seat pad is the same as used on the Sun delta trikes. The Sun trikes are heavier (52 to 65lb), less expensive and Taiwanese built.
Haluzak Triumf Recumbent Tricycles
The seat recline is adjustable on the Sun trikes but not on the Triumf. The Triumf 24-speed drivetrain is easy to get used to and works well, making hill climbing bigger pretty easy on the Triumf; a bit easier than on the heavier Sun trikes. Physically challenged riders may find big hills tough on any trike.
The Haluzak's rear disk brake is plenty powerful in all weather but only brakes the right rear wheel and will pull the bike to the right a bit when applied hard. The front caliper has a parking brake button, a great feature on a trike. The handlebar adjusts up and down but not forward and back.
The Haluzak comes with a nice, easily detachable rear basket for groceries or what have you, much nicer than the basket available for the Sun trikes. These are all bulky trikes and none fold well. They can be transported on the roof of a car, another reason to consider the lightweight of the Haluzak.
If you are looking for a high quality, lightweight USS recumbent – Linear Recumbents has their new 3.0 LWB available now and an all new 20×20 SWB in development.
We are all sold out of Haluzak recumbents but we do have some parts and accessories that will fit Haluzak recumbents.
We may have some used Haluzak recumbents
here
:
---
---