The Ice "T", "Tnt", "Q", and "Qnt" were discontinued late in 2009 and replaced by the new Ice Adventure and Sprint.
These new, improved Ice trikes are described on our Ice Recumbent Trike page.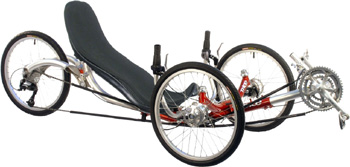 ICE Trice Q and Trice QNT Tadpole Recumbent Trikes / Tricycles ~ ICE Inspired Cycle Engineering
Trice Q is a great all round trike from a world-leading manufacturer at a very affordable price! Now with rear suspension and folding as standard. Also available in a narrow track (NT) version called the QNT.
Has the design stood the test of time?
The Trice Q is a great sports trike from ICE. Its frame is based on the world-renowned Trice XL, one of the most popular trikes in the ICE stable. The Trice Q has been designed from the ground up to give you unbeatable value for money in a machine with rear suspension and the ability to fold and separate without tools as standard.
What do I get?
Q stands for Quick and this trike delivers what its name promises. This machine handles with sure-footed confidence and is nothing short of exhilarating to ride. The tunable rear suspension is extremely comfortable on uneven pavement. This trike is practically guaranteed to put a smile on your face, a smile that is not easy to remove!
How Wide is the Trice Q?
The Trice Q is available in two track widths. Standard track is 31" (795 mm) wide, and the narrow track is 27" (695 mm) wide. The standard track gives you loads of stability so you can really have some fun in the corners without worrying about shifting your weight. Narrow track sacrifices some of this stability to make it easier to get between bollards or through doorways. Whichever width you choose, it will come painted in sparkling candy apple red. This machine is a real head turner.
Trice Q – Sport or recreation?
The Trice Q comes as standard with our ultra cool and comfortable mesh seat but if performance is what you crave you may like to spec your Trice Q with the optional hard shell seat. Turning your Q into an ultra-fast trike, with the hard shell seat installed there is a massive 16 degrees of adjustment available for the seat angle (28-44˚).
To maximize the aerodynamic advantage of recumbents you need to lie back. The hard shell seat allows you to do this more so than the mesh seat. If you want to go very fast you also need a solid platform for efficient power production and the hard shell seat does this best. The contoured shape is also enhanced by a unique set of lower body side supports made by ICE to improve cornering performance.
Can I ride the Trice Q off road?
If you wish to ride your Trice Q on unpaved trails you can. Trikes are confidence inspiring off road. If you start to get adventurous then the trike has the necessary clearances to fit a set of BMX knobby tires. We also offer a set of 'off-road brackets' which shifts the seat backward towards the back wheel, increasing traction for those steep and slippery uphill stretches. Downhill the rear suspension and surefooted handling will give you the ride of your life.
How do I store or transport the Trice Q?

When you are not riding, the Trice Q can be separated and folded down to a convenient size for easy & secure transportation and storage.
The Trice Q offers:
Low and Fast
Tunable rear suspension
Separates and folds tool-lessly
Available in Two track widths
Mesh or hard shell seat
Both seats are adjustable for recline angle
20" wheels all round
Drum brakes or Hydraulic Discs
Great looking Candy Apple Red powder coat finish.
Price includes a Rear Mudguard (fender), a mirror, a flag, and a full set of chain tubes to keep the oil on the chain and off of you.
A great range of accessories are also available from ICE for the Trice Q, so you can select from the list of extras to enhance your machine.
Trice Q 2008 Specifications
The Trice Q is only recommended for riders of body weight up to 252 lbs, (18 st., 114 kg).
TRICE Q
Specification
Overall Width
34.6″ (88 cm), 30.6″ (78 cm) for the Q NT
Overall Height
26″ (66 cm)
Overall Length ( Approx. for 6′ rider)
74″ (188cm)
Front Track
31.5″ (80 cm), 27.5″ (70 cm) for the Q NT
Wheelbase
42″ (107 cm)
Turning Circle
17′ (5.2m) diameter
Seat Height
8″ (20 cm)
Seat Back Angle (adjustable – 3 steps)
37 – 44 Deg (mesh seat) 28-44 Deg (hard shell seat and brackets)
Bottom Bracket Height (approx.)
13.5″ (34 cm)
Ground Clearance
3.2″ (8.2 cm)
Approx folded / dismantled size
Length 46.5″ (118 cm), Width 24.8″ (63cm), Height 14.6″ (37cm)
Weight without accessories or pedals from
36.07lbs (16.36Kg)
Wheels
20″ (406)
Tires
Schwalbe Marathon Slick 20″ x 1.35″ all round
Gear shifters
Micro 9 speed long twist grip
Brakes
Sturmey Archer front Drums
Chainset
Alloy 30/42/52 (Optional 26 or 55 tooth chainrings)
Front Derailleur
Micro
Rear Derailleur
Shimano Deore
Cassette Sprocket
11-32 9 speed
Gear Range
18.2″ – 91.7″
with optional 26 tooth inner ring 15.7″ – 91.7″
with optional 55 tooth outer ring 18.2″ – 97″
Trades Description Act 1968. The manufacturers reserve the right to change the description and specifications to improve the product. Ask for the latest information.
Then there is the ride quality of each. Come try both and decide for yourself!
---
---