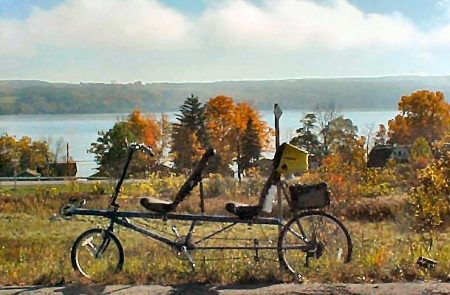 As we finished breakfast the warm sun was pouring through the window, burning off the morning fog and beckoning us out to our bike. Riding north on route 54A we had a great view of Keuka Lake on our right and tree covered hills on our left. Locally known as West Lake Road, it is one of my favorite bike rides, just hilly enough to be interesting and not much traffic on a weekday like this.
Keuka Lake fall ride
We passed a thirty-foot sailboat calmly resting at its dock; we wouldn't have to deal with much wind today. On the left we passed the Gone With The Wind B&B, a beautifully restored stone mansion. The steady stream of lakefront cottages was interrupted by a marina full of boats as we gradually warmed up. The road leveled as we approached Branchport at the northwest end of the lake.
Keuka is a unique lake. Shaped like a "Y" it has one southern end but two northern ends. Branchport has a convenience store with a small dinner if you need rest rooms or snacks. They also have "Crooked Lake Mercantile" for groceries and unique lake gift shopping. Rt. 54A turns right at the light the traffic about doubles. Fortunately the shoulders improve and are wide and quite rid-able.
We began the gentle climb to the highest point on our ride. Nearing the top of the climb we paused at the "Scenic overlook". Apparently the trees have grown since it was named, as it is no longer scenic but still a nice place for a rest. Soon after we passed the Keuka Lake State Park with tent and RV camping and boat launch and beach swimming facilities.
Once over the crest we coasted down into Penn Yan. Looking for a spot for brunch we went straight to Main St and asked a local. He told us to follow him. He led us to the right and in about half a block he led us into the Angels Family restaurant. After a good meal we headed out the door. We passed Birkett Mills, home of the worlds largest pancake griddle. It is hanging on the outside of their building and it's BIG, two stories high!
We continued to Rte 54 south. It was now 11:30, we had plenty of time to relax and enjoy a few stops on the rest of the way around the lake. Route 54 south is a busier road but has excellent shoulders. It isn't as close to the lake as Rte 54A is so we opted to take a few of the many East Lake roads for the "scenic rout". These roads are paved though rough in spots. The traffic is basically non-existent so we rode around the bumps. At times these roads become tiny lanes but remain paved. Very nice if you are not in a hurry. When riding with "the guys" we usually stay on Rte 54. The traffic isn't bad and the road allows us to hammer our way south with out letup. Linda and I prefer to amble along the East Lake roads. At times you are practically on the water.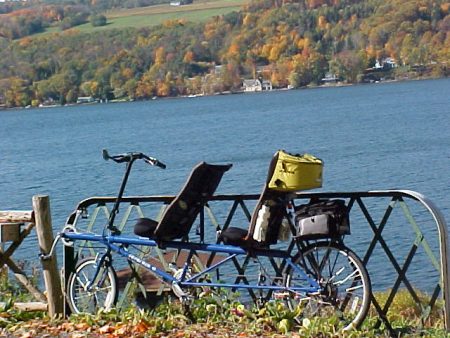 It was at a spot like this where we found ourselves in front of Finton's Landing B&B, where we took this picture. Finton's is a restored steamboat landing. Before the development of roads steamers would pick up their loads or passengers, grapes and wine on their way up and down the lake. Now beautifully restored (and air-conditioned!) the house still has a private beach and intimate view of the lake. We are definitely staying here in the spring!
We continued south at 12:15, now about half way around the lake. We had a ball poking our way south on East Lake road. When it ended we pedaled up the short but abrupt hill back to Rte 54. Back on the state road we gently climbed-and-descended out way south to Hammondsport. We decided to forgo further forays onto East Lake roads, and skipped the winery tours available too. We wanted to have a leisurely time in the lake front park in Hammondsport. Though we weren't right on the lake anymore we had a few nice views of the lake below us.
Coming into Hammondsport we rode past the Keuka Maid dock we saw the lake tour boat was out on an excursion. As we turned north into town, we were only about a mile from the excellent Glen Curtis Museum or early aviation.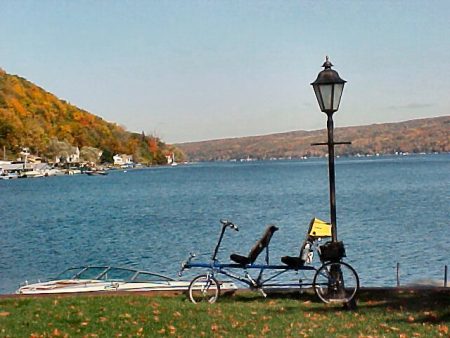 We picked up some snacks, loaded them up and rode down to Depot Park at the end of the lake; it was now 1:45 and we were hungry! Finding a park bench in the sun we relaxed, snacked and watched the scenery go by. A sailboat, a duck, a motor boat, a fisherman, then The Keuka Maid returning to its dock with a happy crew. Nearly 100 years ago Glen Curtis flew the first successful flying boat from the lake near here.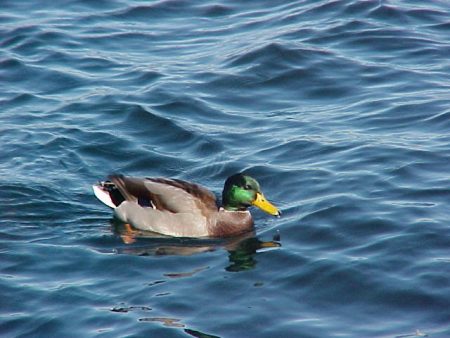 After consuming a few hundred calories we were refreshed and headed north on Rte 54A again. The tailwind combined with small climbs and descents made it a lot of fun. Rte 54A is not as close to the lake as East lake roads are but is a lot closer than Rte 54. The traffic and shoulders situation is somewhat in-between too.
We climbed past the Keuka Yacht Club; its yard is a mass of sailboats on trailers. Only a few miles left to our starting point we began to discuss riding to Branchport for dinner, but the weather looked threatening so, reluctantly we stopped where we had started and put the bike away. After a hearty dinner we slept well. The next morning we drove to "The Speckled Hen" for breakfast. Linda wanted to see where all those signs led and we were not disappointed. Their pumpkin pancakes alone are worth the drive.
We spent about 5 ½ hours on this ride, about 4 hours of it actually riding. If 45 miles sounds a bit daunting I recommend making it a two-day ride. You could spend one night each at Finton's Landing Bed & Breakfast and Gone With the Wind Bed and Breakfast. They are both beautiful and conveniently about half way around the lake from each other.
Bed & Breakfasts
Finton's Landing Bed & Breakfast on Keuka Lake
661 E. Lake Rd.
Penn Yan, NY 14527
Waterfront Victorian, 4 air conditioned guest rooms /all private baths.
165′ SECLUDED KEUKA LAKE BEACH, romantic porch, rocking chairs, lakeside gazebo, flower gardens, cozy 2-person hammock, luscious 2-course breakfast, near Windmill Market, pet-free/smoke-free. Visa/MC (315) 536-3146 (9 A.M.-9 P.M.). http://home.eznet.net/~tepperd, Email tepperd@eznet.net.
Gone With the Wind Bed and Breakfast on Keuka Lake
14905 W. Lake Rd.
Rt. 54A, (Town of Pulteney) Branchport, NY 14418
1887 stone plantation style inn with secluded "log" lodge. Fireplaces, hot tub, restful trails, swimming, docking, full breakfasts, home baking.
Robert & Linda Lewis, innkeepers.
(607) 868-4603
Restaurants
The Speckled Hen
7790 Tuttle Rd
Prattsburgh NY 14873
607-522-7877
Angels Family Restaurant
5 Main Street
Pen Yan NY 14527
The Park Inn and Restaurant
Village Square
Hammondsport NY 14840
607 569-9387
Village Tavern Restaurant & Inn
Village Square
Hammondsport NY 14840
(607) 569-2528
---
---