Linda & I have ridden several recumbent tandems including the RANS Screamer, Screamer Sport, and Screamer TR; the Vision R-82; the Longbikes Eliminator and Jetstream; the Linear tandem; the Sun EZ-Tandem and the BikeE E2. These are the bikes we are comparing the Screamer with; more info on these other tandems is on our recumbent tandem page. I ride mostly with Linda but also ride with our two daughters when they are around.
RANS Screamer Tandem Recumbent Bicycle
We find a recumbent tandem is a great place to have a one on one conversation, get some exercise, enjoy the changing seasons, and have some fun at the same time. The Screamer models are our favorite recumbent tandems. We live in pretty hilly country, so climbing ability and high-speed stability and control are particularly important to us. In a flatter area, this would be less of an issue. Fast winding downhills are a thrill on this bike.
Remember to plan ahead at high speeds it takes longer to stop or avoid an obstacle on any tandem than on a single bike. The lateral stiffness of the Screamer frame gives very predictable handling, a real asset at high speeds. The two V-type rim brakes & the rear disk brake provide good stopping power when dry, be more cautious when it's wet out.
We think the Screamers are the highest performance, best climbing & most stable recumbent tandems we have ridden. Other tandems excel in one area but in our opinion, none have the complete package like the Screamer. The BikeE E2 tandem was comfy, even had rear suspension, but did not climb well and was less stable at higher speeds. Some BikeE parts like seat frames are hard to find these days.
he Sun tandems were comfy and stable but not maneuverable, not as good on hills, and were harder to transport. The Vision tandems were comfy but not maneuverable. Vision seat frames are hard to find, the Vision tandem seat frames even harder. The Longbikes tandems are stable and well made but many riders do not like the mesh seat as well as the padded seats on the Screamer. The Longbikes Gulfstream is very long to transport and hard to do a U-turn on. The Jetstream is a bit less stable but more maneuverable and being about the size of a Screamer, it is easier to transport than the Gulfstream.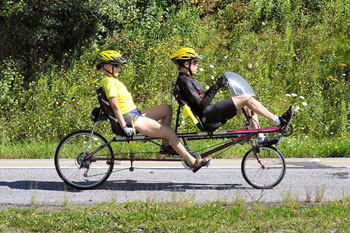 The Screamer's seat comfort is excellent; we consider it the standard for comfort. The RANS seats are widely regarded as the best seats in the industry. They allow much recline adjustment and have excellent lower back support.
On the Screamer you are relatively close together, making conversation a bit easier in traffic. There is a downside to this. When the front is adjusted for me (6'3″ and full recline) a stoker may hit their toes or shins on the captain's seat. Water bottles on the front seat could interfere with the stoker's pedaling. Couples with a shorter captain won't have to worry about this and may even have room to mount bottles on the back of the captain's seat.
The Screamer's OSS steering has an adjustable TerraCycle Glideflex stem which pivots to allow lots of handlebar adjustment and has adjustable friction. It is a nice upgrade from the old RANS Flip-it stem. The handlebar riser telescopes for even more adjustability. In the rear, there are under seat handholds, though Linda often holds on to the back of my seat for a change (I'm 6'3" and recline my seat – she can reach it easily.). In fact, on the standard size Screamer, we have to adjust the front seat carefully to leave her room for her legs, see below.
The Screamer's OSS (Over Seat Steering), stiff frame and compact wheelbase make it better for "U" turns and riding in traffic than most tandem recumbents we have ridden. The BikeE E2 will do a "U" turn easily but at higher speeds, it does not inspire confidence (I'm being polite here…). On bumpy roads, its Screamer's stiff frame gives a harsher ride than the BikeE E2 or Vision R-82 or 85.
The Screamer is also available as the TR (traveling) model that disassembles to pack in a box. The Screamer TR rides just the same as the regular Screamer, but can be disassembled for shipping; a real advantage for couples planning on airline travel to and from bike tours. The TR rides just as well as the regular Screamer. Screamers are assembled in the USA; Screamer Sports are assembled in Taiwan. They share identical Taiwanese frames. The Screamer TR uses the same frame, which is modified here with the S&S couplings.
Stokers viewpoint:
Linda, my wife likes the Screamer models best. The seats are closer together than on most other bent tandems. I'm 6'3″ and she is 5'2″ (eyes of blue…), which puts our seats quite close together on the Screamer. She likes being able to rest her hands on her USS handholds or on the back of my seat (I like the occasional shoulder rubs!). Being closer together makes it easier for us to talk in traffic too. The lack of space makes it a bit tight getting on and off the back, though. The Vision R-82 & 85 had more space between seats and a lower step over, making it easier for the stoker to get on and off but harder to talk in traffic.
When we descend hills on a Screamer she really likes the optional IPS because I don't like to coast as much as she does. Tandems are all about communication and compromise, IPS eliminates one of these.
The Screamer is a great bike and all around our favorite tandem. As with any recumbent, we recommend test riding several before buying one. We typically have a Screamer in stock so you can come try them and make a good decision.
For more info on these other tandems see our recumbent tandem page.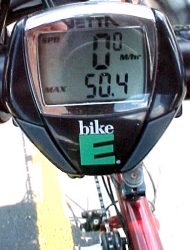 ---
---