Longbikes Jetstream, Eliminator & Gulfstream Tandem Recumbents
Longbikes Jetstream
The 2005 Longbikes Jetstream tandem pictured above unfortunately had a frame that was not ready for prime time. It was too flexible giving it white knuckled handling characteristics. Their revised frame arrived but had frame geometry issues that affected the front derailleur. We are looking forward to a new bug-free version, hopefully available in 2010.
The Eliminator, a new model in 2000 was very well built, like all Longbikes recumbents, with high extremely high quality fittings & hardware. The frame and manufacturing detail is over done, which is great. Its ride is a lot like a RANS Screamer recumbent tandem but is available primarily with Under Seat Steering (USS.)
Longbikes has a hi-tech background and deserves its excellent reputation for quality. The Jetstream uses the Longbikes full mesh seats, similar to the Haluzak seat but stronger, more comfortable, adjustable and foldable. The seat-back angle and seat-base angle are independently adjustable; you have a wide selection of positions to try to set this seat up for your favorite position. The seats also fold for shipping.
The Jetstream is lighter, simpler, foldable for travel, more adjustable and at under $4500 hundreds of dollars less expensive than the original Eliminator tandem.
The Jetstream tandem is the latest design in the Longbikes family of recumbents. Based on the Eliminator single, the Jetstream incorporates some of the design innovations found on the Eliminator. It is the only USS recumbent tandem in production with a frame that disassembles shipping.
Like the old Vision R-82 and R-84 it's length can be adjusted at the rear joint to accommodate different size stokers. Though there is lots of room on the back of this bike we don't feel it is stable with a tall or heavy stoker. The stoker compartment can be adjusted at least 14 inches by moving the seat forward on the frame and adjusting the frame length. The Jetstream frame sizes, adjusts from 80″ wheelbase to 88″ wheelbase to accommodate virtually any size stoker. Up front the captains seat slides and the boom telescopes providing lots of adjustment.
For those of you waiting on this one, don't wait long or the first batch of frames will be gone!
Features and Options:
Chain management:
A conventional Race Face tandem crank with the timing chains on the left hand side and one dual idler sprocket, now standard micro-drive 22 tooth chain rings on the idler sprocket route the chain around the handle bars. This simplifies the bike from the original Eliminator tandem.
Drive Train Components:
The idler hub is now the only Longbikes component in the drive train. This removes the concerns of replacement components years later, and reduced cost and price. It also means the IPS crankset designed by Vision. The IPS cranks can now be added if you want.
Comfort:
The "Hip Hinge" seat provides for independent adjustment of seat tilt and back recline. THE angle between the seat bottom and seat back adjusts from 95-115 degrees in 5 degree increments. Seat back angle adjusts with pins & holes in the dual struts.
Jetstream Specifications:
Frame: 4130 triangulated Frame, Adjustable Length Boom.
Removable aluminum rear drop-outs.
Wheel Base: adjustable form ~80″ to ~86″
X-Seam Range: A very wide range of captains and stokers fit; we do not recommend it for large stokers.
Seat Height: 25″
Bottom Bracket Height: Captain: 27″, Stoker: 12 1/2″
Fork: 1″ Threaded, Chromoly
Head Set: 1″ Alloy, threaded
Seats: Two piece Hip-Hinged, Aluminum tube frame, full mesh.
Steering: Indirect Underseat
Handle Bar: 7/8″ 6061-T6 Aluminum Tube
Front bar Ends: new 2 axis adjustable for hand/arm position adjustment
Front Wheel: Alex DA 16, 20 * 1.5
Rear Wheel: Alex DA 16, 26″ *1.5
Front Hub : Quando 32 hole
Rear Hub: Quando tandem 40 hole
Front Brake: Avid Mechanical Disc
Rear Brake: Avid Mechanical Disc
Brake Levers: Avid Speed Dial 7
Shifters: Shimano Dura-Ace Bar Con 27 speed
Front Derailleur : Shimano XT
Rear Derailleur : Shimano XT
Crank Set: Race Face tandem Triple, 33/44/54
Pedals: cheap platform
Chain Idler: Longbikes dual hub with 2 – 22 tooth Micro-Drive 4 bold chain rings
Chain: Shimano 9 speed compatible
Cassette: Shimano LX 9 speed 11-32
Tires: Kenda Kwest Recumbent 100 psi 1.5" 20″front Rear 1.5" 26″
Paint: deep red with clear coat & top mount decals
MSRP: $4,495
Longbikes Eliminator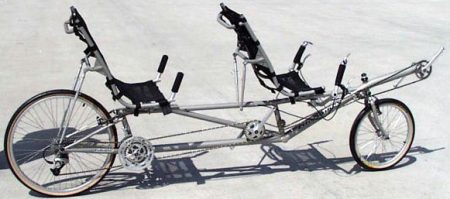 This is our review of the Eliminator tandem:
Riding the Eliminator we found:
Overall it is a very enjoyable ride, the seats aren't as nice as the RANS seats but are pretty comfortable. Because they have an unpadded mesh base lighter riders may like them less and heavier riders should like them more. We are skinny and felt the comfort of the mesh seats is not up to the very high level of the rest of the bike.
Longbikes overbuilds their bikes. Their machining detail is excellent. An example of this is the seat struts. They are machined out of solid aluminum rods. This makes them a bit heavier that other struts, and I'd never seen a seat strut break till RANS came out with the cut away ends in 2003. The front USS handlebars are extremely adjustable, even the bar ends can even adjust in and out to your preference. These bar ends were improved in 2004 and once tightened will not move. The captain's hand position is excellent, better than on the old Vision USS recumbent tandems.
The Eliminator uses 4 chains, an over complicated design, which works very well. Three of the four have tension adjustments, most tandems only have 2 chains and only one needs to have the tension adjusted. This setup shifts great, weighs a bit more and requires infrequent but careful adjustment.
The finish on Longbikes is excellent. Smooth welds, unique, replaceable, bombproof dropouts, flawless glossy paint, and finely detailed and finished machined parts combine to give an overall appearance that is beautiful. I have seen a lot of recumbents, few are finished this well.
As the tandem captain in our family I always preferred the Eliminator handling to the Vision tandem "double visions". Now that Vision is out of business Longbikes stands alone as the USS recumbent tandem of choice.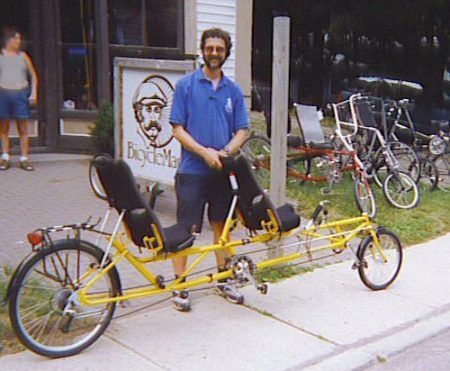 ---
---