The Bicycle Man no longer carries the Xterra Fitness Stationary Bikes.
We have left this page here for information only.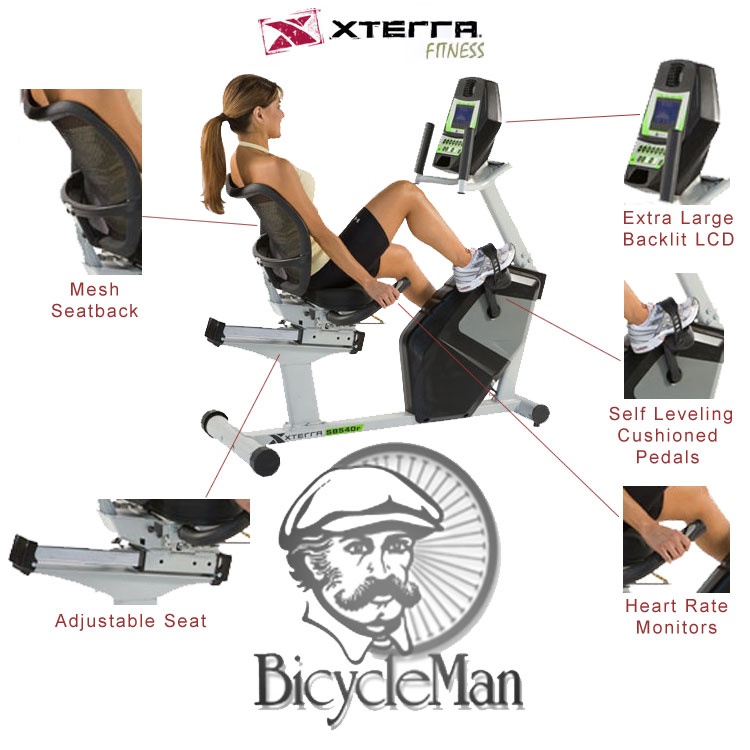 The XTerra Fitness SB 540r Indoor Stationary Magnetic Recumbent Exercise Fitness Bike
When it comes to fitness recumbent exercise bikes the XTerra Fitness SB 540r recumbent exercise bike is one of the BEST Recumbent Exercise Bikes on the market today for the money.
The XTerra Fitness SB 540r magnetic resistance recumbent exercise bike is among the best recumbent exercise & fitness bikes in its price range with features and benefits typically found only on much more expensive units.
If you're looking for recumbent exercise bikes benefits the XTerra Fitness SB540r offers amazing fitness benefits & features with variable magnetic resistance levels ranging from aerobic cardio fitness, Physical Therapy (PT) & Rehab through to gut busting recumbent trainer workouts – ample resistance levels for every type of user. So whether you're a serious recumbent rider or just looking for a great way to exercise in the comfort of your own home the XTerra SB540r Stationary Recumbent Exercise Bike offers high end features for an affordable price!
The XTerra Fitness SB series of indoor recumbent exercise & fitness bikes are a premium line of training bikes designed for safe, comfortable and effective training, exercise and/or Physical Rehab & Physical Therapy.
The SB 540r recumbent exercise bike offers a convenient "low step through" design for easy mount and dismount access. This means you don't have to lift your leg over a high cross-member to get on or off the bike – a very helpful feature for those using the bike for fitness, Physical Therapy and/or Physical Rehabilitation.
The seat on the XTerra Fitness SB 540r is adjustable and the seat back is made of mesh for increased comfort and better wicking of body moisture keeping you cooler and more comfortable.
The SB 540r is a very quiet and smooth riding bike because it is equipped with a smooth and a reliable poly "v-belt" belt drive system. The SB540r belt drive system coupled with Magnetic Resistance offers riders multiple resistance levels from rigorous training modes for the most serious cyclists to lower resistance levels for those trying to recover from serious injuries or health issues all the while providing that same reliable fluid motion in you would expect from higher priced recumbent training bikes. XTerra recumbent exercise bikes are among the most quiet, versatile and durable recumbent & semi-recumbent fitness bikes on the market today.
Features include an easy to read backlit LCD display and a heart rate monitor to monitor your workload. Built with the rider in mind the SB540r boasts an ergonomically and bio-mechanically correct frame and handlebar design, riders train in the optimum training position for maximum fitness results. It is also equipped with an anatomically designed saddle for peak comfort at all times.
XTerra Fitness stands behind their indoor stationary recumbent cycles with exceptional warranties that make your recumbent exercise equipment investment just that – An Investment for as long as you own it.
Above and Beyond Physical Rehabilitation – The XTerra SB540r has the Smallest Q Factor in the Industry
Through research performed with a leading sports scientist and physical rehabilitation expert the engineers at XTerra have developed a breakthrough in pedal design. Typical stationary exercise bikes are wider than a normal road bike to allow for the braking mechanism, pulleys, drive components and cosmetic covers. Since those bikes are wider, so is the distance between the pedals; this width between the pedals is called the Q factor.
Xterra has designed their pedal system so the Q factor is the smallest in the industry, but they did not stop there. XTerra Fitness also custom designed and tooled a new pedal that provides a two degree inward tilt to compensate for the Q factor not being perfect. Having a small Q factor in addition to the two degree inward tilt of the pedals puts the user into a biomechanical neutral alignment. This means that your feet, ankles, knees and hips are lined up properly so you can workout more comfortably for a longer time.
XTerra SB540r Recumbent Bike Features
Compact stationary recumbent exercise bike
Convenient walk-thru design
Smooth and quiet poly v-belt, Belt Driven for smooth & quiet operation
Magnetic ECB* Resistance for smoother, more reliable resistance levels
Comfortable recumbent molded seat bottom and mesh seat back (for cooler – more comfortable riding comfort) contoured for lumbar support, fore/aft seat slider
Seat adjustments – fore/aft
Extra large blue backlit LCD console display. Easy to read LCD monitor displays heart rate, time, distance, speed, calories burned, RPMs and more
Comfortable under-seat Recumbent handlebars with integrated heart-rate grips
20 Resistance levels
8 Pre-set, 2 user & 2 heart rate controlled programs
Audio jack & speakers for CD or MP3 player
Cooling Fan
Water bottle & adjustable holder
Transport wheels for convenient mobility
18 lb. Heavy duty steel flywheel
Oversized, self leveling cushioned pedals
3-Piece Crank
Q Factor of only 7.0 inches
Footprint dimensions – 55" x 28.5" x 47"
Product assembled weight – 122 lbs.
User weight capacity – 300 lbs.
110v plug in
*Magnetic Eddy Current Brake Resistance
Warranty
Frame & Brake – Lifetime
Parts – 3 Years
Labor – 1 Year
---
Proper Seat Adjustment
With your heel on the pedal your leg should be straight or a bit over extended. Then you pedal with the ball of your foot on the pedal and there is a bit of flex left in your knee.
Pain in the front of your knee usually means too much leg bend.
Pain in the back (rare) usually means to little bend.
---