On 1/4/07 Bill Haluzak told me he is calling it quits from recumbent bicycle manufacturing. Since then the Haluzak Horizon, Hybrid Race and leprechaun Recumbent bikes and Haluzak Triumf recumbent trikes have been unavailable. We keep Haluzak Recumbent parts and accessories in stock so these fine bikes can ride for years to come.
We are all sold out of Haluzak recumbents but we do have some parts and accessories that will fit Haluzak recumbents.
We may have some used Haluzak recumbents
here
: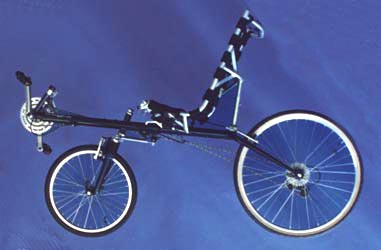 We do not have any Haluzak bikes left in stock but try to keep their repair parts available. Need Haluzak seats, seat frames, idlers etc? Give Peter a call 607-587-8835.
Haluzak recumbent bikes and trikes
For years, Bill Haluzak built some of the finest USS recumbent bikes available. All of his bikes are similarly designed and change little over the years. In fact, it is difficult to tell them apart in pictures. Some 99% of Haluzak's bikes are USS SWB with bar-ends and bar-con shifters. Their rider position, handling and comfort are similar. You can get a Haluzak with OSS handlebars, which comprises the missing 1% of their sales.
The frame detail, rider position and handling are very good. Quality components and Bar-Con shifters made the Haluzak among the best shifting 'bents on the market. Their chain idler is nearly silent and pretty trouble free. USS handlebars with bar-end are an excellent combination. It gives one of the most comfortable hand-arm positions of any USS 'bent. Haluzak, Longbikes and Linear recumbents all use this handlebar style. Haluzak low speed maneuverability is good, they climb pretty well too.
Some recumbent beginners find it easiest to learn to ride USS bikes like the Haluzak. As with all USS bikes accessories mounted on the handlebars are sometimes harder to see. This is particularly important with speedometers and mirrors. For adding lights, Speedo's and mirrors to any USS bike requires the purchase of an optional mount (or some ingenuity.)
All Haluzak models share the same seat. It is light and breathes very well. The seat cover is extremely durable. The seat frame is somewhat less durable, we have seen a few riders over 220 lb break them. I have not been able to get really comfortable on it but Haluzak owners rarely complain. Haluzak says it breaks in to fit you in a few hundred miles. Haluzak owners are sometimes quite loyal to their bike.
Options available on the Haluzak include an accessory mount (for lights & speedometers), front shocks on the Horizon or Hybrid race, and Over Seat Steering (but OSS is only 1% of their sales.)
The seats on Haluzak (like Lightning and Vision) bikes don't adjust to fit your leg length, the pedals do. This makes adjustment to different riders more difficult as you may need to change the chain length also. For owners who want to share their bikes with riders of different height this is inconvenient. The fixed seat position helps keep your weight optimally centered between the wheels whether you are tall or short. Their optimal weight distribution and medium wheelbase combine to deliver their excellent handling.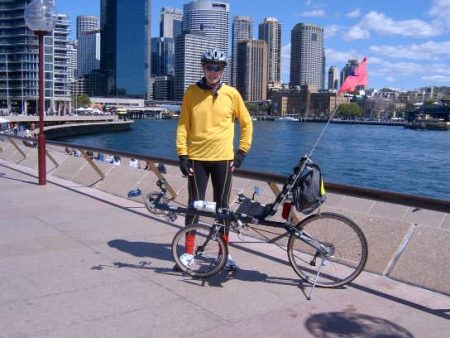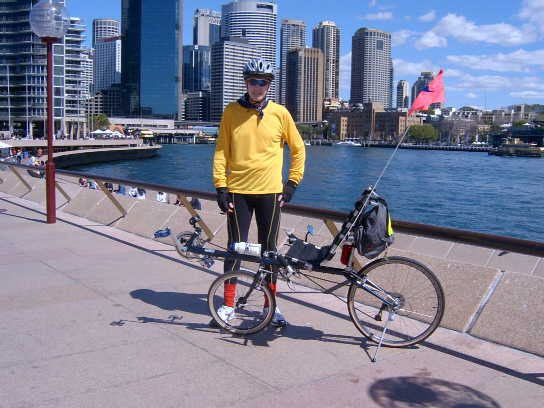 We are all sold out of Haluzak recumbents but we do have some parts and accessories that will fit Haluzak recumbents.
We may have some used Haluzak recumbents
here
:
---
---